Published on:
November 23, 2022
Kannada Goddess's image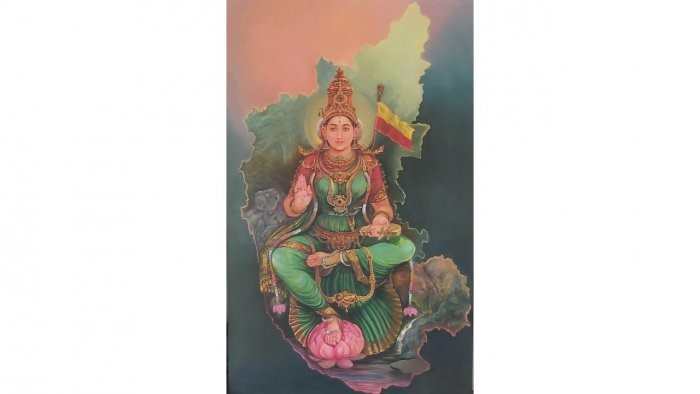 http://yesand.co.uk/category/innovate-2/page/3/ Why in news?
Banqiao  A five-member committee appointed by the Karnataka government has finalised the image of the Goddess Bhuvaneshwari, the deity representing the Kannada identity, which will be used in all official programmes
Quetiapine sale Highlights
Pandua Head of the committee : D Mahendra(former Lalitha Kala Academy Chairperson)
The image of the deity has the http://mshanhun.com/tag/sandpit/ outline of Karnataka in the backdrop and has several elements, including a representation of the Chalukyas and Hoysalas.
The committee was constituted in September 2021 to come up with one defining image of the Naadadevi, which lacked uniformity instead of using goddesses Durga, Saraswati, and in portrait .
Once accepted by the government, this image will be used in all official programmes and on the walls of public schools.
It would form the basis for the Naadadevi statue coming up on the Jnanabharathi campus.
The portrait has been created by Bengaluru-based artist K Somashekhar. keeping the committee's brief of depicting both the traditional art form of the state as well as her description in the Naadageete or the state anthem.
Some of the features of the image (as per sources in the ministry) and the thought behind their inclusion are as follows:
The map of the state features as the background of the image.
The facial expression of the Goddess is one of natural beauty and divinity.
She is two armed – to keep her as close to reality.
She has the 'abhaya mudra' in her right hand, symbolic of guarding and blessing the citizens, and holds the palm leaf manuscripts in her left, signifying the knowledge traditions and literary wealth of Kannada language.
Her posture eludes a majestic presence.
The Kannada flag stands for Kannada pride.1
Her green saree reflects the state's ecological wealth and flora and fauna.
Her jewellery too has been designed to reflect the various glorious kingdoms that ruled this state – from the Chalukya style crown; the lion emblem on her shoulder embellishments; the large ganda bherunda pendant; the keertimukha symbol pendant, the Hoysala emblem for a pendant among others. The anklets, toe rings, her bindi, flowers in her hair, all are representative of 'saubhagya' (symbols of a woman's divinity).

A delicate string of flowers that she is garlanded with is to add a 'gentle outline to all her ornamentation. The lotus at her feet are for her to rest her gentle feet while the Western Ghats and greenery, waterfalls in the backdrop reflect out natural bounty