Published on:
November 1, 2022
Kannada Rajyotsava Award 2022
Kannada Rajyotsava Award 2022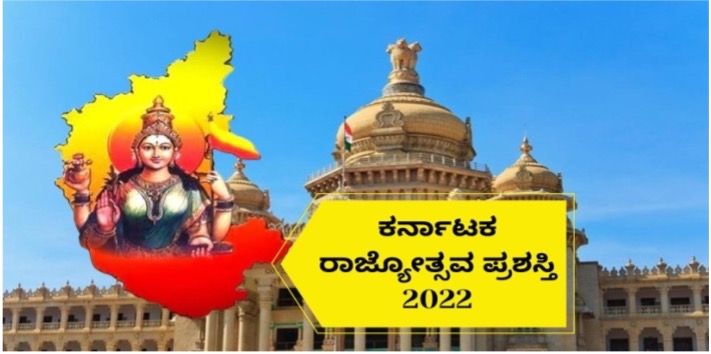 Why in news?  
Following the tradition of awarding Rajyotsava Award every year to eminent persons who have rendered significant service in various fields,on 67th Kannada Rajyotsava (state formation day) this year on November 1.
Highlights:
Award-winning personalities include – Soligara Madamma who popularised cooperatives among Soliga community, Saalumarada Ninganna (environmentalist), Yakshagana artiste Dr M Prabhakar Joshi, writers A R Mitra and professor Krishnegowda, differently-abled swimmer Raghavendra Anvekar
Former Indian Space Research Organisation (ISRO) chairman K Sivan, Karnataka Digital Economy Mission (KDEM) chairman BV Naidu, Veteran actors Avinash Yelandur and H G Dattatreya will also be awarded the prestigious honour.
On this occasion of Amrita Mahotsav (75 years) of Independence, the government has also decided to honour 10 organisations with 'Amrita Mahotsav State Award-2022'. including Sri Ramakrishna Ashrama, Mysuru, Nammane-Summane (working for transgender rights), Bengaluru and the Thalassemia and Haemophilia Society, Bagalkot.
Pourakarmika Mallamma Hoovinahadagali and H L Manjunath , Madan Gopal were awarded in the administration category.
About Rajyotsava award?  
The Rajyotsava Prashasti or Rajyotsava Awards, the second highest civilian honor of the Karnataka state of India are conferred annually by the Karnataka Government on the occasionof the establishment of the state on 1 November celebrated as the Kannada Rajyotsava.
The Award was instituted in 1966 to be awarded to citizens of Karnataka in recognition of their distinguished contribution in various spheres of activity including the Arts, Education, Industry, Literature, Science, Sports, Medicine, Social Service and Public Affairs.
It has also been awarded to some distinguished individuals who were not citizens of Karnataka but did contribute in various ways to Karnataka. The award was not conferred in 1977, 1978, 1979, 1980 and 2009
The awards are presented in Bengaluru by the Chief Minister of Karnataka on 1 November of every year.
Each award carries an amount of 500,000, a 25-gram gold medal and a citation. In addition to that, the government has in the past, allotted commercial land for eligible awardees.