Published on:
July 5, 2022
VALLARPADAM BASILICA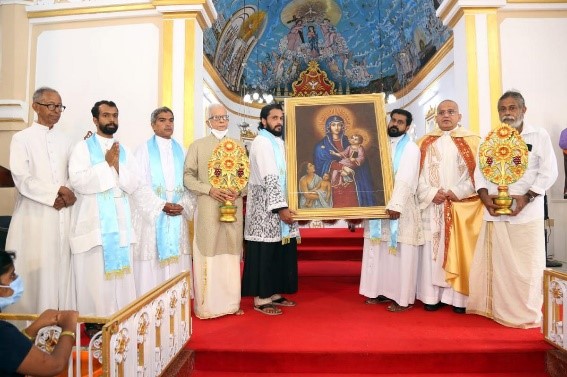 Why in news?
The 500-year-old painting of Our Lady of Ransom that adorns the main altar of the Vallarpadam Basilica has been reinstalled after restoration.
Highlights:
The painting of Our Lady reached Vallarpadam in 1524 through Portuguese missionaries.
The painting was nearly lost in the floods of 1676 but was retrieved by Paliath Raman Valiachan, who was the prime minister of the Kochi king.
The painting was then installed in the church. It is of 95×75 cm size, and is an oil painting.
The National Shrine Basilica of Our Lady of Ransom aka Vallarpadam Basilica located in Vallarpadam, a suburb in Ernakulam, in the city of Kochi, is a minor Basilica and a major Christian pilgrimage centre in India.
Around 5 million people visit the Basilica every year. It is the most important Marian Shrine in India

People from all parts of the world irrespective of caste or creed go to the church to seek the blessings of the Blessed Virgin Mary, mother of Jesus, popularly known as "Vallarpadathamma".