Published on:
August 15, 2022
PAKISTAN'S ECONOMIC CRISIS
PAKISTAN'S ECONOMIC CRISIS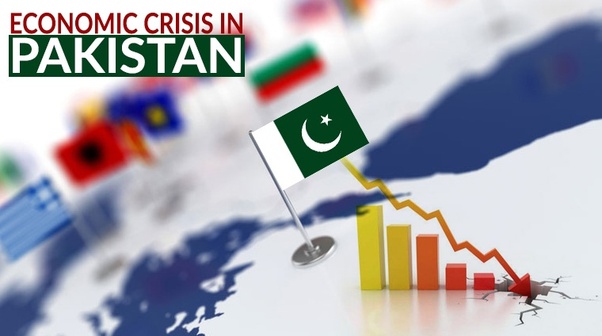 Pakistan's foreign exchange reserves have been depleting during the last one year and is heading towards a default risk as Sri Lanka did.

Pakistani economy is said to have been crippling since the discontinuance of US 'military' aid which it had used
buy gabapentin overnight What is the news?
The buy Lyrica in australia Pakistani rupee has been on free fall; from 150 in April 2021 to 213 against the dollar on 21 June, an all-time low.
This would mean high oil and electricity prices, to outrage the people who are already to the streets due to ousted PM Imran Khan.
The government-International Monetary Fund (IMF) talks have remained complicated.
Options available for Pakistan:
Pakistan is under deep Balance of Payment (BoP) crisis (as was India in 1991). Pakistan has exhausted all credit options as SL did.
Even the China Pakistan Economic Corridor (CPEC) is at standstill.
Even the Saudi's and so called 'caliphate' of Turkey has not come to Pakistan's rescue.
Only option left: IMF bail out: The immediate future of Pakistan's economy would depend on IMF resuming its support. Despite an intense discussion between the two, there has not been a consensus until now.
What is IMF bail-out?
Bailout is a general term for extending financial support to a company or a country facing a potential bankruptcy threat.
When a country asks the IMF for a loan, the country is facing a major economic crisis.
In particular, it does not have enough foreign currency ('dollars') to pay for imports and the repayments on its loans. In short, the country cannot pay its international bills. So, it need a bailout.
The IMF will give the country an aid, which is 'cash' in the sense that it does not have to be spent on a particular project. This money can be used to pay its bills.
But, the IMF will impose certain conditions. The basic condition is to spend less – both domestically and internationally.
This belt-tightening is not easy – people lose jobs, prices rise, etc. And, one has to repay the loan. These conditions are necessary to ensure that the money is being spent where it is supposed to.
Pakistan and IMF: A track record
Pakistan's relationship with the IMF has remained complicated. It sees conditions laid as a breach of sovereignty.
Though Islamabad has been negotiating with the IMF repeatedly, there has been an economic nationalism, mostly jingoistic, against approaching the IMF in recent years.
Imran Khan, the former PM made statements and fuelled the sentiments against the IMF.
After becoming the PM in 2018, he preferred approaching friendly countries (China and Saudi Arabia) and avoiding the IMF.
The new government is now back to the IMF; it expects the IMF to release the payments, expand the support programme, and give a longer rope to repay.
Conditions laid out by IMF for recent bail-out
The IMF is willing to support Pakistan but has some conditions regarding macroeconomic reforms.
It wants Pakistan to be transparent about its debt situation, including what Islamabad owes to China, as a part of the CPEC.
Terror-financing in Pakistan is the most favored type of investment!
The IMF may agree to support after a few more promises by the government. But the relief may be less than what Pakistan would hope for.
A vicious cycle:
Since its inception, Pakistan has spent more years inside an IMF programme than outside of it.
Every leader took the money, imposed massive hardships on the population through austerity and demand suppression and then reneges on its commitment through a patchy implementation.
Radical fanaticism and anti-India sentiments are successful tools of public appeasement.
Will Pakistan pursue macroeconomic reforms?
In Pakistan, budgets have remained populist.
The economic governance declined due to corruption, lack of financial institutions' independence, and the export decline.
The subsidies in the energy sector — fuel, oil and electricity — remain high to appease the public.
With the present coalition government facing elections, they are less likely to take any further bold decisions.
Will "friendly countries" support Pakistan without preconditions?
Saudi Arabia and China have been supporting Pakistan. MBS has already pulled his hands. Riyadh's support is not unconditional.
It can ask Pakistan "to return the money at any time if the two countries have divergent views regarding their relationship or ties with a third country, or some other issue."
China has been another significant source for Pakistan. Islamabad has been regularly seeking loans from China within and outside the CPEC projects.
However, since the attack on Chinese citizens by Baloch Fighters, China appears to have been disgusted with Pakistan.
CPEC is also at a standstill.
FATF clearance is no panacea: During the latest Financial Action Task Force (FATF) meeting, there was an understanding that Pakistan has met its requirement. The FATF has agreed to explore the possibilities of removing Pakistan from the grey list. However, even when Pakistan was on the grey list, the IMF had been holding talks with Islamabad.
The big two — China and Saudi Arabia — were not constrained by Pakistan's listing in the FATF. So, the relaxation is less likely to open gates for big investments.
Will Pakistan go the Sri Lankan way?
The situation was similar in Sri Lanka — the falling value of rupee, declining foreign exchange reserves, differences with the IMF, and rising fuel prices.
All of them led to public protests in Sri Lanka against the government.
The economic and energy crises in Pakistan have not snowballed into a political storm as it had happened in Sri Lanka.
The dope of "threats to Religion" works effectively there.
Conclusion:
The experiment of Pakistan (as a separate nation) has failed on various fronts.
To conclude, Pakistan's economic and energy situation is serious and demands bold decisions.
The situation will worsen in the short term before it gets better, but this has been Pakistan's history in the last 75 years.

With a relief from the IMF, after a protracted negotiation, a few band-aids, and the US intervention, Islamabad may muddle through this time as well, until the next crisis.