Published on:
August 23, 2022
Pradhan Mantri Fasal Bima Yojana (PMFBY):
Pradhan Mantri Fasal Bima Yojana (PMFBY):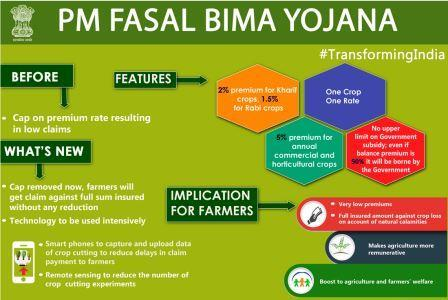 Launched in 2016 and is being administered by the Ministry of Agriculture and Farmers Welfare.

It replaced the National Agricultural Insurance Scheme (NAIS) and Modified National Agricultural Insurance Scheme (MNAIS).
PMFBY insures farmers against all non-preventable natural risks from pre-sowing to post-harvest.
buy ivermectin scabies online Objectives:
To provide insurance coverage and financial support to the farmers in the event of failure of any of the notified crops as a result of natural calamities, pests & diseases.
To stabilize the income of farmers to ensure their continuance in farming.
To encourage farmers to adopt innovative and modern agricultural practices.
To ensure the flow of credit to the agriculture sector.
http://fhaloanmichigan.org/up.php Payment of premium:
Farmers have to pay a maximum of 2 percent of the total premium of the insured amount for Kharif crops, 1.5 percent for rabi food crops and oilseeds as well as 5 percent for commercial/horticultural crops.
The balance premium is shared by the Union and state governments on a 50:50 basis and on a 90:10 basis in the case of northeastern states.
Claims are worked out on the basis of shortfall in actual yield, vis-a-vis the threshold yield in the notified area.

It shall be implemented through a multi-agency framework by selected insurance companies under the overall guidance & control of the Department of Agriculture and state government.
There is no upper limit on Government subsidies.
The premium rates to be paid by farmers are very low and the balance premium is paid by the Government to provide the full insured amount to the farmers.
Issues Related to the Scheme
Financial Constraints of States: The financial constraints of the state governments and low claim ratio during normal seasons are the major reasons for non-implementation of the Scheme by these States.
States are unable to deal with a situation where insurance companies compensate farmers less than the premium they have collected from them and the Center.
The State governments failed to release funds on time leading to delays in releasing insurance compensation.
This defeats the very purpose of the scheme which is to provide timely financial assistance to the farming community.
Claim Settlement Issues: Many farmers are dissatisfied with both the level of compensation and delays in settlement.
The role and power of Insurance companies is significant. In many cases, it didn't investigate losses due to a localized calamity and, therefore, did not pay the claims.
Implementation Issues: Insurance companies have shown no interest in bidding for clusters that are prone to crop loss.
Further, it is in the nature of the insurance business for entities to make money when crop failures are low and vice-versa.
Karnataka Raitha Suraksha Pradhan Mantri Fasal Bima Yojane:
The sharing pattern of 50:50 in the premium subsidy will be applicable only up to  actuarial premium rate (APR) of 25% and 30% with respect to irrigated and rainfed areas/district respectively. For APR beyond those rates, GoI share of subsidy will be limited to the applicable share up to the APR of 25% and 30% for irrigated and rainfed district respectively.
During 2021 Kharif, 36 Food, Oilseeds, Annual Commercial & Horticulture crops were notified. During Rabi 2021-22 KRS-PMFBY is implemented in all the districts except Bangalore (Rural) and Bangalore (Urban) and Kodagu. 22 crops are being notified and during summer the scheme is being implemented in 25 districts, 6 crops are being notified.

The Insurance Companies implementing PMFBY during Kharif, Rabi and summer 2021-22 are – Agriculture Insurance Company of India Ltd., Universal Sompo GIC, ICICI Lombard, Bajaj Aliance GIC and Future Generali GIC.