Published on:
August 30, 2022
Adopt a Monument scheme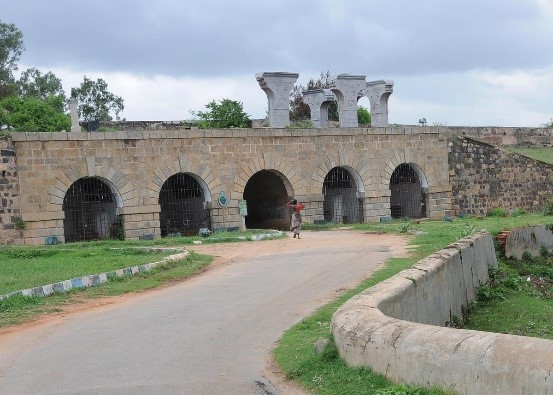 buy priligy in australia Why in news?
The State Government has finalized five monuments under the Adopt a Monument scheme announced by the Chief Minister Basavaraj Bommai in his Budget presentation earlier this year.
Highlights:
The five monuments – approved for the first phase of the project – have been pruned from a larger list of 30 for adoption and this includes Gagan Mahal at Anegundi in Koppal district, Tajbavadi (Bavi) at Vijayapura, Koppal Fort in Koppal district, Raja's Tomb at Madikeri and Srirangapatana Fort at Srirangapatana in Mandya district.
No ownership
'adoption' or 'adopting' a monument does not bestow ownership on the organisation selected for maintenance under the scheme.
The corporate entity will provide basic amenities to enhance tourist or visitor experience and provide infrastructure without marring the physical and visual appeal of the monument.
It is also ordained to take up conservation work where required.
Every proposal will be scrutinized and vetted by the archaeologists of the department. The monuments listed for adoption under the scheme are under the State protected list and do not come under the ambit of the Archaeological Survey of India.
Even with respect to conservation, the plans and the methodology should be in sync with the guidelines related to conservation of monuments and the State Archaeological Department will continuously monitor the works.
The project will be jointly implemented by the Department of Archaeology Heritage and Museums and the Department of Tourism and the scheme will help develop a robust mechanism to provide basic amenities and facilities across the monuments in Karnataka.
Why this move?
We have 844 protected monuments and nearly 25,000 unprotected monuments in the State and it is an expensive affair to take up conservation of monuments like forts. Hence the scheme inviting proposals from private and public sector organisations will go a long way in off-setting the financial crunch.
Smaraka Mitras
The organisation selected for adopting a monument would be known as Smaraka Mitras for providing basic tourist amenities and advanced amenities.
Amenities that are provided
The advanced amenities include
facilitation of night visits to heritage monuments under adaptive use
creating tourism facilitation centres with facilities like museums
souvenir shops promoting local art and craftsmanship
digital interactive kiosks and digital LED screening
sound and light show, battery-operated vehicles, etc.
List of monuments for adoption by State Archaeological Department
The list of monuments that need conservation plus basic and advanced amenities includes:
Srirangapatna Fort and Moat, Srirangapatna in Mandya district;
Shiva temple, Theginnagatta, (Mandya);
Sri Kasheshwara temple, Kashipura (Hassan);
Govindeshwara and Nakeshwara temples, Koravangala (Hassan);
Suralu palace, Pejamngoor (Udupi);
Bahamani tombs, Holkonda (Kalaburagi);
Fort, Devadurga (Raichur); Fort, Ramadurga (Raichur);
Fort, Yadgir (Yadgir); Hill Fort, Yadgir (Yadgir);
Tajbavadi, Vijayapura (Vijayapura);
Srimantaghada Fort, Devihal (Gadag);
Fort, Naragunda (Gadag);
Parasagada Fort Savadatti (Belagavi);
Bhuthanatha temple, Killatorgal (Belagavi)
The list of monuments requiring basic and advanced amenities includes:
Fort and moat, Sira (Tumakuru);
Rayagopura, Kalyani, Bhuvaneshwari Mantapa, Melkote (Mandya);
Raja's tomb, Madikeri (Kodagu); Nalakanad Palace, Yavakpadi village (Kodagu);
Parvasu temple, Gundlupet (Chamarajanagar);
Malkhed fort, Malkhed (Kalaburagi);
Kumararamana Kumatadurga, Kumtadurga (Koppal);
Anegundi fort, Gangavathi (Koppal);
Gaganmahal, Anegundi (Koppal);
Hampi monuments, Hampi (Vijanayanagar);
Pre-historic and neolithic ash mound, Ballari (Ballari);
Fort, Basavakalyana (Bidar); Yalluru Fort, Yalluru (Belagavi); Rani Channamma Palace, Fort and surroundings (Kittur) Belagavi.
What is adopting a monument mean?
The 'Adopt a Heritage: Apni Dharohar, Apni Pehchaan' scheme is an initiative of the Ministry of Tourism, in collaboration with the Ministry of Culture and the Archaeological Survey of India. It was launched in September 2017 on World Tourism Day by President Ram Nath Kovind.
Under it, the government invites entities, including public sector companies, private sector firms as well as individuals, to develop selected monuments and heritage and tourist sites across India.
Development of these tourist sites calls for providing and maintaining basic amenities, including drinking water, ease of access for the differently abled and senior citizens, standardised signage, cleanliness, public conveniences and illumination, along with advanced amenities such as surveillance systems, night-viewing facilities and tourism facilitation centres.
The sites/monument are selected on the basis of tourist footfall and visibility and can be adopted by private and public sector companies and individuals — known as Monument Mitras — for an initial period of five years.
The Monument Mitras are selected by the 'oversight and vision committee,' co-chaired by the Tourism Secretary and the Culture Secretary, on the basis of the bidder's 'vision' for development of all amenities at the heritage site. There is no financial bid involved.

The corporate sector is expected to use corporate social responsibility (CSR) funds for the upkeep of the site. The Monument Mitras, in turn, will get limited visibility on the site premises and on the Incredible India website. The oversight committee also has the power to terminate a memorandum of understanding in case of non-compliance or non-performance.