Published on:
October 17, 2022
Environmental compensation
Environmental compensation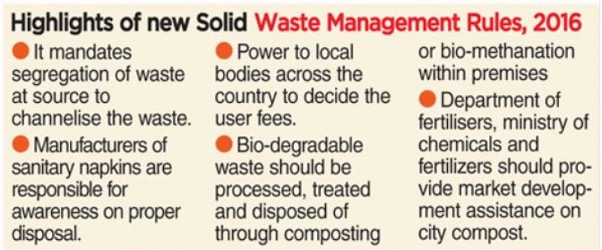 Why in news?
The National Green Tribunal (NGT) has imposed environmental compensation of Rs 2,900 crores on the state of Karnataka for allegedly not managing solid as well as liquid waste management causing harm to the environment.
Highlights:
The need for compensation:
Tribunal said that the award of compensation has become necessary under section 15 of the NGT Act to remedy the continuing damage to the environment and to comply with directions of the Supreme Court requiring this Tribunal to monitor the enforcement of norms for solid and liquid waste management.
Assessing the extent of damage and estimating compensation on the 'Polluter Pays' principle for restoration of the environment, NGT initially estimated compensation. The chief secretary is responsible for ensuring the compliance
Maintained that the steps taken by Karnataka for solid as well as liquid waste management were inadequate in terms of compliance of the solid waste management rules 2016, and NGT and the apex court orders
National Green tribunal
The National Green Tribunal Act, 2010 is an Act of the Parliament of India which enables the creation of a special tribunal to handle the expeditious disposal of the cases pertaining to environmental issues.
It draws inspiration from India's constitutional provision of (Constitution of India/Part III) Article 21Protection of life and personal liberty, which assures the citizens of India the right to a healthy environment.
India is the third country following Australia and New Zealand to have such a system.
The Tribunal is headed by the Chairperson who sits in the Principal Bench and has at least ten but not more than twenty judicial members and at least ten but not more than twenty expert members.
NGT Chairperson : JUSTICE ADARSH KUMAR GOEL
What lies ahead?
The sources of clean water need to be maintained free from sewage and other waste and treated sewage used for non potable water
Sewage treatment plant need to be fully utilized and standards of water quality maintained
The legacy waste dump sites need to be fenced and maintained as per the SWM Rules 2016, for fire safety and the protection of inhabitants with remediation
The reclaimed land after clearance of legacy waste has to be used and such use needs to be declared at the earliest