Published on:
December 1, 2022
Gambling dens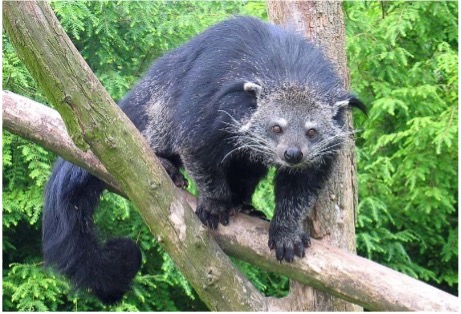 Why in news?
Ukhrul town in Manipur have been scanning "gambling dens" after  reports of wild animals  dead or alive being offered as prizes for raffle draws
Highlights
Ukhrul is about 80 km northeast of the State capital Imphal(Manipur)
There have been instances of people buying raffle draw tickets to try their luck to win exotic meat. The larger or rarer the bird or animal or body part, the higher the price of the ticket.
Wild boars and deer, animals such as binturong, squirrels and flying foxes (bats) have been found to be on offer.
Different types of birds such as the grey-sided thrush and tragopans (often called horned pheasants) have also been spotted.
The Blyth's tragopan is the State bird of adjoining Nagaland.
Binturong
It is also known as the bearcat,
Native : South and Southeast Asia.
IUCN Status : Vulnerable
The binturong is the only living species in the genus Arctictis.
Distribution and habitat: India, Nepal, Bangladesh, Bhutan, Myanmar, Thailand, Malaysia to Laos, Cambodia, Vietnam and Yunnan in China, and Sumatra, Kalimantan and Java in Indonesia to Palawan in the Philippines
India : Recorded in Manas National Park, in the hill forests of Karbi Anglong, North Cachar Hills, Cachar and Hailakandi Districts
Protection : CITES Appendix III and in Schedule I of the Wild Life Protection Act 1973
Grey-sided thrush
Habitat distribution : It is migratory, breeding in the mountains of north-east China and migrating to subtropical or tropical moist montane forest in India, and Indochina.
It is also thought to feed on nectar from the flowers of the shingle tree
IUCN status: Vulnerable
Blyth's tragopan
It is a pheasant that is a vulnerable species
Distribution : Bhutan through north-east India, north Myanmar to south-east Tibet, and also China.
Habitat: Undergrowth of evergreen oak and rhododendron forests, and other dark, quiet places.
The Blyth's tragopan is the State bird of Nagaland.

IUCN status: Vulnerable