Published on:
October 25, 2022
ISRO's heaviest rocket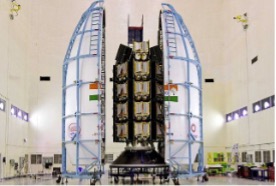 Why in news?
The heaviest rocket of the Indian Space Research Organisation, the LVM3-M2 OneWeb India-1, with 36 satellites on board took off from the second launch pad (SLP) of the Satish Dhawan Space Centre
Highlights
LVM3-M2 is the dedicated commercial satellite mission of NewSpace India Ltd. (NSIL), a Central public sector enterprise under the Department of Space.
With this launch, LVM3 is making its entry into the "global commercial launch service market".
This mission is being undertaken as part of the commercial arrangement entered into between NSIL and Network Access Associates Limited (m/s OneWeb Ltd), a U.K.-based company.
As part of this mission 36 OneWeb Gen-1 satellites, meant for global connectivity needs, will be launched into circular low earth orbit of 601 km altitude.
This mission is the fifth flight of LVM3 and this is the first Indian rocket with a six tonne payload.
This is the first ever commercial launch of LVM3 with a heaviest payload to LEO. The LVM3 was conceived primarily for launching geostationary satellites with a payload capacity of 4T, which can be used for launching 6T payloads for LEO.