Published on:
November 19, 2022
Kali Tiger Reserve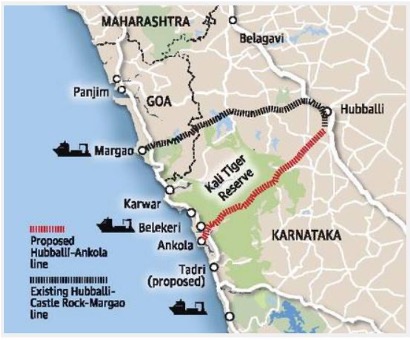 Why in news?
Mysuru zoo's surplus deer to enrich prey base at Kali tiger reserve
Highlights
The Kali Tiger Reserve (KTR) in Uttara Kannada district is receiving sambar deer and chital from the Mysuru zoo.
four such sambar deer have already been translocated to the reserve's core area, the remaining are expected to be released.
When the species breed more than the housing capacity of zoos, such animals are called surplus animals.
To manage such excess animals, the zoos, after proper planning, can either release them into their natural habitat or exchange them with other zoos
Kali Tiger Reserve (Anshi National Park)
It is a protected area and tiger reserve.
Location: Uttara Kannada district, in Karnataka
Habitat: Bengal tigers, black panthers and Indian elephants, amongst other distinctive fauna.
River :Kali River
Ecoregion: North Western Ghats montane rain forests and North Western Ghats moist deciduous forests,
Park management: Principal Chief Conservator of Forests
Renamed: In December 2015, Dandeli Anshi Tiger reserve was renamed to Kali Tiger Reserve
Mysore Zoo
Officially : Sri Chamarajendra Zoological Gardens
It is one of the oldest and most popular zoos in India
It is also the only zoo in India to house gorillas, orangutans, white rhinos and cheetahs.
Lands under the control of Mysore Zoo
Sri Chamarajendra Zoological Gardens, Mysore.
Karanji Lake Nature Park, Mysore.
Chamundi Conservation and Rehabilitation Center, Kurugahalli, Mysore