Published on:
September 14, 2022
Kartavya Path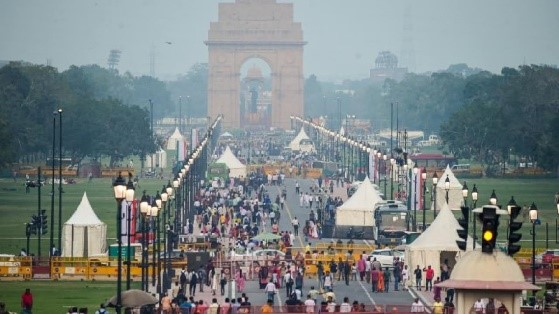 Why in news?
The 2-km stretch from India Gate to Rashtrapati Bhawan called Kartavya Path, which was known as Rajpath till earlier this week,was inaugurated and the statue of Netaji Subhas Chandra Bose at India Gate was unveiled by Prime Minister Narendra Modi
Background of Rajpath:
The ceremonial boulevard of the national capital running from the Raisina Hill complex to India Gate began its journey as Kingsway, a majestic central axis in the heart of New Delhi that was built here after the imperial seat of the administration was shifted from Calcutta (now Kolkata) as announced by British monarch King George V in 1911.
Soon after Independence, Kingsway was renamed to Rajpath and Queensway running perpendicular to it was rechristened as Janpath.
Now, Rajpath has been renamed as Kartavya Path
On December 15, 1911, King George V and his consort Queen Mary laid the foundation stone of the 'new capital' of the British Raj.
In consonance with the vision of the king, architects Sir Edwin Lutyens and Sir Herbert Baker built the new capital city, whose grandeur and architectural splendour rivalled the best of the cities in Europe and America.
A grand axis was laid from the Great Place (later renamed to Vijay Chowk) to India Gate by the architects with verdant lawns, fountains and ornamental lampposts on both sides, forming the resplendent Central Vista Avenue.
Baker created a circular Parliament House near the Rashtrapati Bhavan which was inaugurated by the then Viceroy Lord Irwin in January 1927.
The city, constructed between the two World Wars and which took over 20 years to build, was inaugurated on February 13, 1931 by the same viceroy.
India then became a Republic on January 26, 1950, and Rajpath has been the venue of all Republic Day celebrations since 1951.
Only the first Republic Day celebrations was held at Irwin Stadium (now Captain Dhyan Chand National Stadium) behind India Gate complex, where the Rajpath stretch ends.
The Rajpath and the Central Vista lawns flanking the promenade were officially renamed as Kartavya Path, as the New Delhi Municipal Council (NDMC) approved the renaming and issued a public notice in this regard.
Did you know??
Subhash Chandra Bose's jayanthi is celebrated as 'Parakram Diwas' on 23rd January
statue of Netaji Subhash Chandra Bose
The statue of Netaji Subhash Chandra Bose made of granite, is a fitting tribute to the immense contribution of Netaji to our freedom struggle, and would be a symbol of the country's indebtedness to him.

Crafted by Shri Arun Yogiraj, who was the main sculptor, the 28 feet tall statue has been carved from a monolithic granite stone and weighs 65 MT.