Published on:
October 21, 2022
Mission LiFE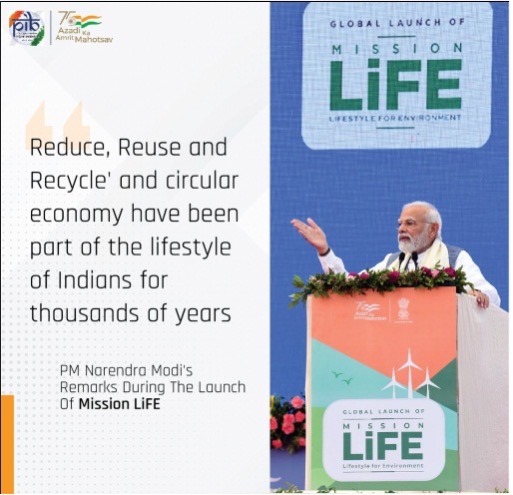 Why in news?
Prime Minister Narendra Modi and UN Secretary General Antonio Guterres launched Mission LiFE  at the Statue of Unity, a global plan of action aimed at saving the planet from the disastrous consequences of climate change
Highlights
First proposed by the Prime Minister at COP 26, Mission LiFE is envisioned as an India-led global mass movement that will nudge individual and collective action to protect and preserve the environment.
The launch comes ahead of next month's mega UN climate meet in Egypt.
It also initiated the 'LiFE Global Call for Ideas and Papers', inviting individuals, universities, think tanks, non-profits and others worldwide to submit measurable and scalable behaviour change solutions that can drive climate-friendly behaviours among individuals, communities and organisations.
The action plan list of ideas on lifestyle changes that can be taken up as climate-friendly behaviour  along with the logo and tagline for Mission LiFE (Lifestyle for Environment) were jointly launched by Modi and Guterres.
Mission LiFE will strengthen the concept of a pro people planet, adding it aims at following a three-pronged strategy for changing people's collective approach towards sustainability.
This includes nudging individuals to practice simple yet effective environment friendly actionsin their daily lives (demand), enabling industries and markets to respond swiftly to the changing demand (supply), and to influence government and industrial policy to support both sustainable consumption and production (policy).
Why there is a need of LiFE?
Overconsumption has resulted in a three-fold planetary emergency of climate change, biodiversity loss and pollution, and
There is a need to treat the earth's resources judiciously and respectfully.
About subsidies for fossil fuels, it is better to subsidise "people" instead of "things".
The need of the hour to solve the challenge faced by our planet using human-centric, collective efforts and robust action that further sustainable development.