Published on:
June 13, 2022
'MONITORING LIST' OF US TREASURY
'MONITORING LIST' OF US TREASURY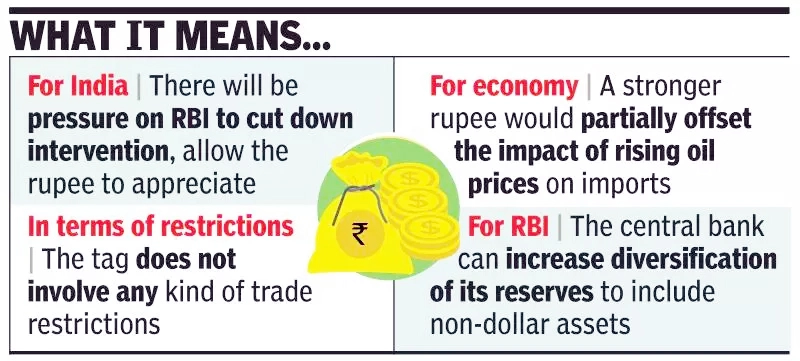 Why in news?
  India remained on the US treasury department's currency "Monitoring List" of major trading partners as Washington placed India along with 11 other major economies that merit close attention to their currency practices and macroeconomic policies.
Major trading partners of US
The countries are China, Japan, South Korea, Germany, Italy, India, Malaysia, Singapore, Thailand, Taiwan, Vietnam and Mexico, said the US Department of Treasury in its semi-annual Report to Congress on Macroeconomic and Foreign Exchange Policies of Major Trading Partners of the United States.
All except Taiwan and Vietnam (which were subject to enhanced engagement) were on the Monitoring List in the December 2021 Report.
Why was India retained in the list?
India met two of the three criteria in the December 2021 and the April 2021 Reports, having a significant bilateral trade surplus with the US and engaged in persistent, one-sided intervention over the reporting period.
India met only the significant bilateral trade surplus threshold in this Report, India will remain on the Monitoring List until it meets fewer than two criteria for two consecutive Reports.
According to the report, India (with $569.9 billion) has the fourth largest foreign exchange after China ($3.2 trillion), Japan ($1.2 trillion) and Switzerland ($1 trillion).

The Treasury said that similar to many Asian emerging market peer currencies, the rupee weakened against the US $ over the course of 2021, depreciating by 1.9 per cent.