Published on:
July 12, 2022
NATIONAL EMBLEM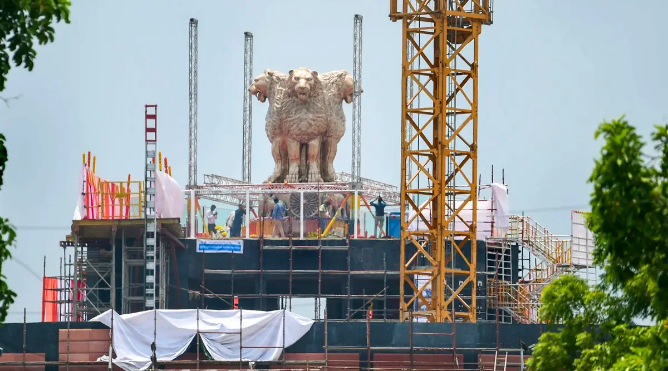 Huaral Why in news?
http://sasonandpobi.com/reviews/educational-insights-april-blast-50-sweepstakes/ Prime Minister Narendra Modi unveiled the national emblem cast on the roof of the new Parliament building.
Highlights:
The emblem is made up of bronze with a total weight of 9,500 kg and is 6.5 metre in height.
It has been cast at the top of the central foyer of the new Parliament building, and a supporting structure of steel weighing around 6,500 kg has been constructed to support the emblem.
The concept sketch and process of casting of the national emblem on the roof of the new Parliament building has gone through eight different stages of preparation from clay modelling and computer graphics to bronze casting and polishing.
The metal sculpture has been built in Aurangabad, Jaipur and Delhi by artists Sunil Deore and Lakshman Vyas. The earlier design incorporated a spire atop the building and was replaced with the Ashoka Emblem in 2020.
About the emblem:
It is an adaptation of the Lion Capital of Asoka at Sarnath. In the original, there are four lions, mounted back to back, on a circular abacus, which itself rests on a bell-shaped lotus.
The frieze of the abacus has sculptures in high relief of an elephant, a galloping horse, a bull and a lion separated by intervening Dharma Chakras.
The profile of the Lion Capital showing three lions mounted on the abacus with a Dharma Chakra in the centre, a bull on the right and a galloping horse on the left, and outlines of Dharma Chakras on the extreme right and left was adopted as the State Emblem of India on January 26, 1950.
The bell-shaped lotus was omitted.
The motto Satyameva Jayate, which means 'Truth Alone Triumphs', written in Devanagari script below the profile of the Lion Capital is part of the State Emblem of India
Who designed the national emblem of India?    
Dinanath Bhargava sketched and illuminated India's National Emblem