Published on:
November 4, 2022
Panamaram Heronry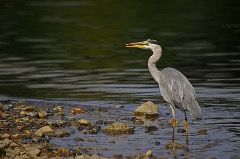 Why in news?
Panamaram heronry in Kerala is set to get a new lease of life.
Highlights
Did you know??
Panamaram River is a tributary of the Kabani River along with Mananthavady, Babali, Noolpuzha and Nugu Rivers.
it is the largest breeding ground of herons in Kerala's Malabar region.
It is set to get a fresh lease of life, due to the intervention of the Kerala State Biodiversity Board (KSBB) and the Panamaram grama panchayat
The heronry, formed on a sandbank on the Panamaram river, is a breeding ground for nine species of waterbirds.
The tiny islet is a haven for globally threatened waterfowls, including the black headed-ibis, purple heron, large egret, median egret, little egret, pond heron, night heron, and little cormorant.
The site is also the only location in Kerala where the cattle egret breeds
What is a heronry?
A heronry, sometimes called a heron rookery, is a breeding ground for herons.
About herons:
Herons are long-legged, long-necked, freshwater and coastal birds some of which are referred to as egrets or bitterns rather than herons.
Herons, by evolutionary adaptation, have long beaks.
IUCN: Least Concern
Measures that has to be taken:
Human disturbances from the surrounding areas in the form of poaching of eggs and chicks, sand mining in and around the heronry should be totally banned.
The use of chemical pesticide in the foraging areas of the heronry birds should be prevented
encourage organic farming to ensure the existence of healthy population of heronry birds.
The heronry is located outside the present existing protected area networks so, special measures should be taken for the protection of heronry through community participation.
Conservation programmes of the heronry consist of regular planting of bamboos and other native tree species to enhance the requirement of nesting place and to protect the sandy banks of the heronry from erosion.