Published on:
November 14, 2022
PM Gati Shakti Multimodal Waterways Summit
PM Gati Shakti Multimodal Waterways Summit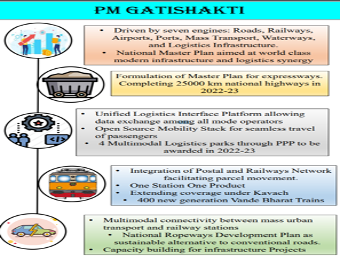 Why in news?
 Prime Minister's Gati Shakti Multimodal Waterways Summit organised by the Inland Waterways Authority of India (IWAI) under the Ministry of Ports, Shipping and Waterways, Government of India at Varanasi.
About PM Gati Shakti
PM Gati Shakti – National Master Plan for Multi-modal Connectivity, essentially a digital platform to bring 16 Ministries including Railways and Roadways together for integrated planning and coordinated implementation of infrastructure connectivity projects.
The multi-modal connectivity will provide integrated and seamless connectivity for movement of people, goods and services from one mode of transport to another.
It will facilitate the last mile connectivity of infrastructure and also reduce travel time for people.
Vision of PM Gati Shakti
It will incorporate the infrastructure schemes of various Ministries and State Governments like Bharatmala, Sagarmala, inland waterways, dry/land ports, UDAN etc.
Economic Zones like textile clusters, pharmaceutical clusters, defence corridors, electronic parks, industrial corridors, fishing clusters, agri zones will be covered to improve connectivity & make Indian businesses more competitive.
It will also leverage technology extensively including spatial planning tools with ISRO (Indian Space Research Organisation) imagery developed by BiSAG-N (Bhaskaracharya National Institute for Space Applications and GeoiNformatics).
What are the 6 Pillars of PM Gati Shakti?
Comprehensiveness: It will include all the existing and planned initiatives of various Ministries and Departments with one centralized portal.
Prioritization: Through this, different Departments will be able to prioritize their projects through cross-sectoral interactions.
Optimization: The National Master Plan will assist different ministries in planning for projects after identification of critical gaps. It help in optimum route in terms of time and cost.
Synchronization: PM Gati Shakti will help in synchronizing the activities of each department, as well as of different layers of governance, in a holistic manner by ensuring coordination of work between them.
Analytical: The plan will provide the entire data at one place with GIS based spatial planning and analytical tools having 200+ layers, enabling better visibility to the executing agency.
Dynamic: All Ministries and Departments will now be able to visualize, review and monitor the progress of cross-sectoral projects, through the GIS platform. It will help in identifying the vital interventions for enhancing and updating the master plan.
What was the need for the project?
There was lack of coordination between different Departments, for example, once a road was constructed, other agencies dug up the constructed road again for activities like laying of underground cables, gas pipelines etc
To address other issues like time-taking approval process, multiplicity of regulatory clearances
This helps to address the past issues through institutionalizing holistic planning for stakeholders for major infrastructure projects.
Instead of planning & designing separately in silos, the projects will be designed and executed with a common vision.