Published on:
October 21, 2022
Pokkali Paddy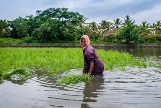 Why in news?
Pokkali paddy saw a good harvest this year
Highlights
It is a unique saline tolerant rice variety that is cultivated using extensive aquaculture in an organic way in the water-logged coastal regions, spread in about 5000 hectares area in Alappuzha, Thrissur and Ernakulam districts of Kerala in Southern India.
The brand Pokkali has received a GI tag from the Geographical Indications Registry Office, Chennai.
It is an ancient farming practice where one season of rice farming is alternated with another season of fish culture
Rice farming and fish farming are mutually complementary.
The person has to stand in waist-deep water to harvest the mature paddy stalk
The cycle is from April 15 to November 15 with shrimp and fish farmers occupying the fields in the remaining period.