Published on:
October 18, 2022
Poor registration for e-Shram cards
Poor registration for e-Shram cards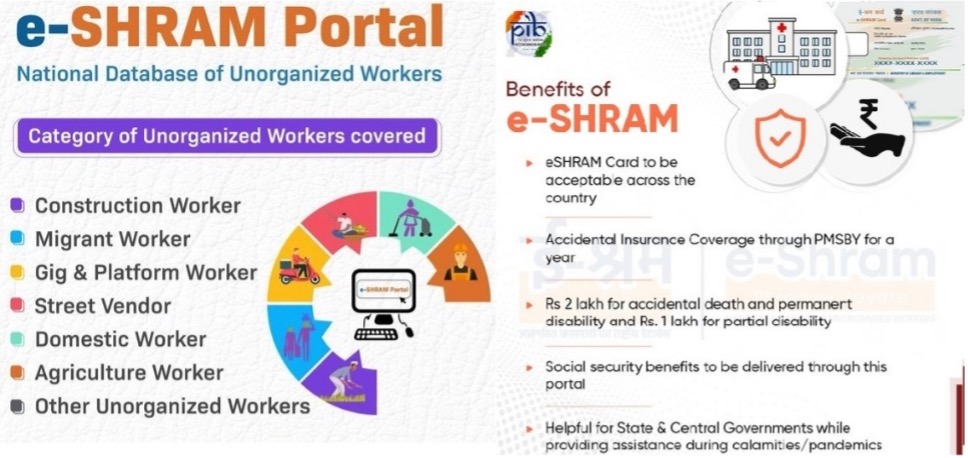 Why in news?
Only 37.5 per cent of workers in the unorganised sector in Karnataka have their names registered on the e-Shram national database.
Highlights:
e-Shram, an initiative of the Ministry of Labour and Employment, is a step towards building the Aadhaar Authenticated Comprehensive National Database of Unorganized Workers (NDUW)
Workers who register for the e-Shram database get ID cards with a 12-digit Universal Account Number uniquely assigned to each unorganized worker.
The government says the e-Shram database will come in handy to roll out more benefits in the future. Workers on the database now get enrolled to the Pradhan Mantri Suraksha Bima Yojana, accidental insurance scheme of Government of India.
It provides 2 lakh for accidental death and permanent disability & Rs 1 lakh in case of partial disability.  The premium for the first year will be borne by the Ministry of Labour & Employment
What are the Objectives of e-shram portal
Creation of a centralized database of all unorganized workers (UWs) including Construction Workers, Migrant Workers, Gig and Platform workers, Street Vendors, Domestic Workers, Agriculture Workers, etc., to be seeded with Aadhaar
To improve the implementation efficiency of the social security services for the unorganized workers and integration of Social Security Schemes meant for UWs
Sharing of information in respect of registered unorganised workers with various stakeholders such as Ministries/ Departments/ Boards/ Agencies/ Organisations of the Central & State Governments through APIs for delivery of various social security and welfare schemes being administered by them
Portability of the social security and welfare benefits to the migrant and construction workers
Providing a comprehensive database to Central and State Governments for tackling any National Crises like COVID-19 in future
What are the reasons for less registration?
An Aadhaar-linked mobile number is a necessity for self-registration on the e-Shram portal. This in itself is a challenge for migrant workers, who by the very nature of their work often move from one place to another and from one SIM card to the next
To register on the portal, a worker must have an active bank account linked to their Aadhaar. while many workers have bank accounts, a large number of these lie dormant.
It is applicable for  people from 16 to 59 years of age. Many  get excluded because in the informal sector many people are working beyond the age limit of 60
Another challenge is that some of the categories don't necessarily translate well from Hindi to English
Provident fund (PF) account holders cannot be registered on the e-Shram portal.
Government must in tandem with civil societies to create awareness among the  population. The complexities in the process has to be identified and enhance the working according to it