Published on:
November 8, 2022
Snow leopard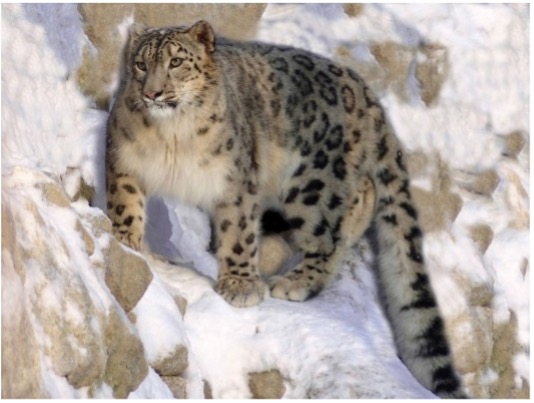 Why in news?
Camera traps renew hope for snow leopard in Kashmir valley
Highlights
The first-ever recording of the snow leopard from the Baltal-Zojila region has renewed hopes for the elusive predator in the higher altitudes of Jammu and Kashmir and Ladakh
Camera trapping exercises by researchers partnering with J&K's Department of Wildlife Protection, also raised hopes for other important and rare species such as the Asiatic ibex, brown bear and Kashmir musk deer in the upper reaches of the northernmost part of India.
It is the first record of snow leopard from the Baltal-Zojila area.
The Snow Leopard Population Assessment of India (SPAI) has been concluded so far in Himachal Pradesh and Uttarakhand. The estimated population of the great cat is 50 and 100 in these two States respectively
The Department of Wildlife Protection has been conducting surveys with partner NGOs to understand presence and abundance of snow leopards under the SPAI project funded by the Ministry of Environment Forests and Climate Change.
Snow leopard
It is native to the mountain ranges of Central and South Asia.
IUCN status : Vulnerable

listed in CITES Appendix I

Habitat: It inhabits alpine and subalpine zones at elevations of ranging from eastern Afghanistan, the Himalayas and the Tibetan Plateau to southern Siberia, Mongolia and western China. In the northern part of its range, it also lives at lower elevations
In India : Indian Himalayas is estimated in Jammu and Kashmir, Ladakh, Uttarakhand, Himachal Pradesh, Sikkim and Arunachal Pradesh.
the iconic and culturally treasured snow leopard is a good indicator species as it quickly reacts to habitat disturbances and its successful conservation requires sustainable long-term systemic solutions to the threats impacting the quality of habitats.
Global Snow leopard forum
Government leaders and officials from all 12 countries encompassing the snow leopard's range: Afghanistan, Bhutan, China, India, Kazakhstan, Kyrgyzstan, Mongolia, Nepal, Pakistan, Russia, Tajikistan, and Uzbekistan
This countries signed the Bishkek Declaration for conservation