Published on:
September 23, 2021
BRICS FOR PRESENT SITUATION
BRICS FOR PRESENT SITUATION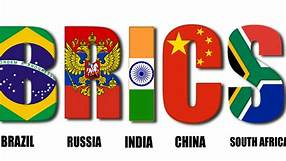 Present News : The 13th BRICS summit was be held on September 9 in digital format under India's chairmanship.
BRICS :
BRICS is an acronym for 5 emerging economies of the world viz. – Brazil, Russia, India, China, South Africa.
The term BRIC was coined by Jim O' Neil, the then chairman of Goldman Sachs in 2001.
The first BRIC summit took place in the year 2009 in Yekaterinburg (Russia).
Launched by a meeting of the Foreign Ministers of Brazil, Russia, India and China in 2006 and riding on the political synergy created by regular summits since 2009, BRIC turned itself into BRICS in 2010, with the entry of South Africa.
It represents 42% of the world's population, 30% of the land area, 24% of global GDP and 16% of international trade.
PRESENT PRIORITIES
The first is to pursue reform of multilateral institutions ranging from the United Nations, World Bank and the International Monetary Fund to the World Trade Organization and now even the World Health Organization.
The second is the resolve to combat terrorism. Terrorism is an international phenomenon affecting Europe, Africa, Asia and other parts of the world.
Promoting Technological and Digital Solutions for the Sustainable Development Goals (SDGs).
Expanding People-to-people Cooperation, However, enhancing people-to-people cooperation will have to wait for international travel to revive. Interactions through digital means are not a full substitute of in person meetings.
ISSUES
Issues within grouping : Example – China's aggression in eastern Ladakh
Diverse interests possess a threat to the viability of the grouping
Balancing trade deficit with China
Not Been Effective
WAY FORWARD
BRICS need to shed the centrality from China and create a better internal balance, reinforced by the urgent need for diversification and strengthening of regional value chains, all exposed during the pandemic.
BRICS nations need to recalibrate their approach and to recommit to their founding ethos. BRICS must reaffirm their commitment to a multi-polar world that allows for sovereign equality and democratic decision making.
BRICS should consider a BRICS-led effort to meet their commitments under the Paris Agreement on climate change and the UN's sustainable development goals. This could include e.g. setting up a BRICS energy alliance and an energy policy institution.
BRICS nations should strive for peaceful and politico-diplomatic settlement of crisis and conflict in various regions of the world.