Published on:
September 15, 2023
Dengue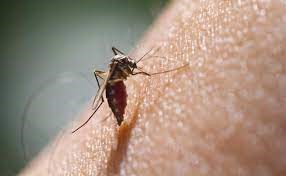 Why in news? Over 7,000 dengue cases have been reported across the state this year out of it 4,000 are from Bengaluru
Highlights:
After the heavy rainfall in the state, there has been a rise in dengue cases in the state.
In 2022, for the same period, Karnataka has recorded 3,403 cases. There has been an increase of 18 per cent in Dengue cases compared to last year.
About Dengue
Type – Mosquito-borne tropical disease
Nature
Caused by the dengue virus and spread by Aedes aegypti
It is detached through antibodies to the virus or its RNA
Symptoms
High fever, headache, vomiting, muscle and joint pains, and a characteristic skin itching and skin rash.
Severe dengue hemorrhagic fever, resulting in bleeding, low levels of blood platelets and blood plasma leakage, or into dengue shock syndrome, where dangerously low blood pressure occurs
Vaccine – Dengvaxia and Qdenga are  two commercially available dengue prevention vaccines and Treatment include Supportive care, intravenous fluids, blood transfusions
What are the causes of Dengue fever ?
Viral Infection: Dengue fever is due to infection with the dengue virus (DENV), which belongs to one of four strains: DENV-1, DENV-2, DENV-3, or DENV-4. The virus is transmitted through the bite of the Aedes aegypti mosquito, also known as the yellow fever mosquito.
Geographic Location: It is found in tropical and sub-tropical climates worldwide, mostly in urban and semi-urban areas. warm and humid climate are particularly conducive to mosquito breeding and the spread of the virus.
Human Host: Humans are the primary host and source of virus for female mosquitoes to acquire DENV through a blood meal from viremic humans.
Lack of Immunity: Dengue can be more severe upon subsequent infections with different dengue virus serotypes. This is known as antibody-dependent enhancement (ADE), where prior exposure to one serotype can lead to more severe symptoms upon infection with another serotype.
Vector Breeding Sites: The vector mosquitoes under genus Aedes breed mainly in manmade water containers including buckets, mud pots, discarded containers, used tyres, storm water drains etc. Aedes mosquito deposits eggs singly on damp surfaces just above the water line that increases the breeding
Urbanization and Population Density: Unplanned urbanization is associated with dengue transmission through multiple social and environmental factors: population density, human mobility, access to reliable water source, water storage practice etc.
Lack of Effective Vaccination: There is still no treatment to counter the dengue virus itself, and there is no universally available prevention method. Instead, the World Health Organization (WHO) recommends that infected individuals rest, hydrate, and take over-the-counter pain relievers — treatments that can address symptoms.
What are the preventive measures undertaken for dengue prevention?
Creation of awareness: Effective education programs, public health campaigns by local NGOs and the Ministry of health should be performed especially in rural and densely populated area specifically about dengue transmission.
Vector Management: Environmental management for Source Reduction, Chemical control, Personal protection and Legislation
Inter-sectoral Coordination: Government must work with Ministries of Urban Development, Rural Development, Panchayati Raj, Surface Transport and Education sector for disease surveillance
Use Mosquito Repellent: Repellents containing DEET, picaridin, or oil of lemon eucalyptus, as these are effective against Aedes mosquitoes.
Early detection : For early diagnosis ELISA based NS1 kits have been introduced under the programme which can detect the cases from 1st day of infection. IgM capture ELISA tests can detect the cases after 5th day of infection
Eliminate Mosquito Breeding Sites: Constant checking of screens and seals on rainwater tanks should be done. self-watering pot plant bases to be filled with sand to prevent mosquitoes from breeding.
Community Programme : The month of July is observed as "Anti Dengue Month" and states are undertakes widespread campaigns for community awareness and mobilization inter-personal communication
National Center for Vector Borne Diseases Control (NCVBDC)
It administers for prevention and control of six vector borne diseases i.e., Malaria, Kala-azar, Lymphatic Filariasis, Dengue, Chikungunya & Japanese Encephalitis.
The programme plans for Dengue & other Vector Borne Diseases have been developed in consultation with Public Health Experts and States/UTs.
National Rural Health Mission (NRHM)
It envisages the community to take leadership at local level, related to health and its related issues.
Constitution of Village Health Sanitation and Nutrition Committee (VHSNC) is one of the special initiatives under the NRHM to improve the availability and access to quality health care to reduce disease burden
Conclusion
Dengue remains a significant health issue with no specific treatment, highlighting the importance of prevention and control measures. Continued research, international collaboration, and public awareness are essential to reduce the impact of this disease on affected communities.