Published on:
July 16, 2023
India- France Relationship
India- France Relationship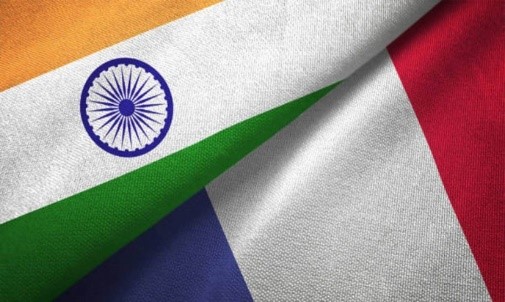 Why in news? India – France completed 25 years of strategic partnership
Highlights:
Prime Minister Narendra Modi was the chief guest at the Bastille Day celebrations to commemorate the all-encompassing and continuously evolving bilateral ties.
PM was also conferred the 'Grand Cross of the Legion of Honour', France's highest civilian honour, the first for an Indian Prime Minister.
Defence Cooperation
The three services also have regular defence exercises; viz. Exercise Shakti (Army), Exercise Varuna (Navy), Exercise Garuda (Air Force)
Two sides have a High Committee on Defence Cooperation (HCDC) meets annually at the level of Defence Secretary and the French Director General of the Directorate of International Relations and Strategy (DGRIS).
Defence Acquisition Council accorded preliminary approval for the procurement of 26 Rafale-M fighters to operate off India's aircraft carriers and three additional Scorpene-class diesel-electric submarines from France.
French companies setting up MRO (maintenance, repair, overhaul) facilities and producing spare parts and helicopter engines in India
Major Purchase
Purchase of Rafale aircraft
Under P-75 Scorpene Project six vessels are to be built under technology transfer at the Mazagaon Docks Ltd. Project
Space Cooperation
ISRO and CNES will realize their joint satellite mission TRISHNA meant for eco-system stress and water use monitoring as also accommodation of a French instrument of India's OCEANSAT – 3 satellite
The jointly developed Megha-Tropiques satellite which observes clouds and water vapours over the tropical region continues to be in good health and providing valuable scientific data
France continues to be a major supplier of components and equipment for the Indian space programme.
Both the countries issued a "Joint Vision for Space Cooperation" during the visit of President Macron to India
Civil Nuclear Cooperation
In 1982, France and India signed their first military deal that landed New Delhi 40 Mirage planes.
After 1974 nuclear tests, Washington withdrew support from the US-built nuclear plant in Tarapur, But France stepped up and supplied India with fuel for the plant.
Strategic Importance
France has also proved its reliability at the UNSC where, as a permanent member, it has always supported India on Kashmir and New Delhi's bid for permanent membership.
Economic Cooperation
Almost 1000 French companies are present in India with a total turnover of US$ 20 billion with more than 25 R&D centres in India.
France is the ninth largest foreign investor in India with cumulative investment from 2000 to 2017
An India-France CEOs' Forum exists at the level of top CEOs from both sides meeting annually and presenting their reports to the Prime Minister of India and President of France.
India's NPCI International Payments Limited (NIPL) and France's Lyra Collect signed an agreement to roll out UPI in France and Europe.
Cultural Cooperation
An Indian Cultural Centre regularly sends Indian cultural troupes to France and proposed to be opened centre in Paris.
ICCR presented the Namaste France cultural festival in France and French side presented the French cultural festival Bonjour India in  that  brought various manifestations of culture including classical and contemporary dances and music, exhibitions, seminars, food, fashion, films etc.
Ministry of External Affairs organised a Regional Hindi Conference at INALCO University, Paris and a Sanskrit Conference was organized by the Mission
France will be accorded the guest of honour status in the New Delhi World Book Fair in 2022.
Climate change
India and France setting up the International Solar Alliance (ISA), has become a movement.
Indo Pacific Region
India and France converge in maintaining freedom of navigation, coordinated patrols, and joint exercises that have been on a steady rise since the 2018 Joint Strategic Vision.
France has been a member of India's naval initiatives in the region for a long time.
Asymmetric rise of China, resulted to uphold a rules-based order by various tools in the Indo-Pacific region by both the countries co-designing norms and regulations around maritime domain awareness (MDA).
India-France's Indo-Pacific Trilateral Development Cooperation Framework of 2022 was put together to facilitate development projects, especially in the framework of the International Solar Alliance (ISA).
Indian community in France
It is estimated that the Indian community, including NRIs in mainland France number around largely originating from French enclaves of Puducherry, Karaikal, Yanam, Mahe and Chandernagore.
Sizeable number of Indian origin population lives in the French Overseas Territories of the Reunion Island, Guadeloupe, Maritinique and Saint Martin
Migration and Mobility Partnership Agreement aims to facilitate temporary circular migration based on mobility and the encouragement for a return of skills to the home country.
Way forward
The most valuable key takeaway from this silver jubilee partnership is its desire to shape the emerging global order. It is a partnership "not of free riders, but free thinkers" that take pride in their own perspective and chase it with momentum.