Published on:
April 8, 2023
Information Technology (Intermediary Guidelines and Digital Media Ethics code) rules, 2021
Information Technology (Intermediary Guidelines and Digital Media Ethics code) rules, 2021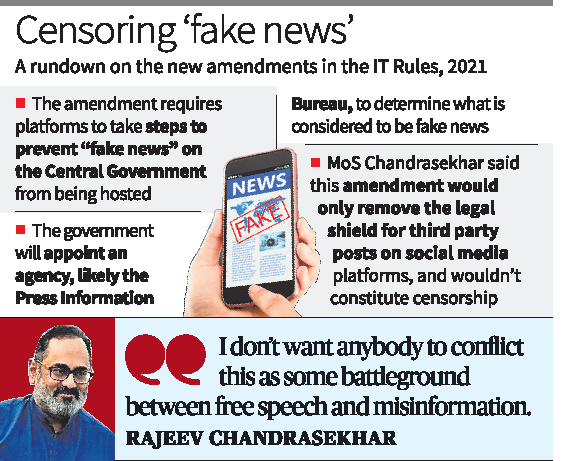 Why in news? Reaffirming its commitment to protect the safety and trust of the Digital Nagriks, the Ministry of Electronics and IT, Government of India notified amendments to the Information Technology (Intermediary Guidelines and Digital Media Ethics Code) Rules, 2021, related to online gaming and spread of false and misleading information regarding government business.
Highlights:
About Fake news
Social media platforms and other intermediaries on the Internet are now required to make sure that "fake news" articles about the Union government, deemed and declared as such by its Press Information Bureau (PIB), are taken down from their platforms when they are alerted to such posts.
What is an online game?
The Indian government defines an online game as "a game that is offered on the Internet and is accessible by a user through a computer resource or an intermediary."
Online games that are involved in wagering and betting will fall foul of the new rules
Permissible online games are those games, real money or otherwise, that do not involve wagering, user harm in its content and do not create any addictive consequences for children.
What is an SRO?
Self-Regulatory Organisations(SRO) will determine whether an online game is permissible or not, based on whether it involves wagering or betting.
Three SROs will be initially notified, but the government can add more later.
The new rules also dictate that SROs include an educationist, an expert in the field of psychology or mental health, and an individual who is or has been a member or officer of an organisation dealing with the protection of child rights.
What are the new rules?
The new rules can be summarised into the following points:
The government will set up several SROs with representatives from various sectors. These SROs will decide if a game is allowed or not.
Gaming firms or platforms must not offer, publish, or share online games that have harmful or banned content. They must verify the identity of online gamers.
Online games that involve any kind of gambling (including ads) will be prohibited.
SROs will also make sure games follow guidelines to prevent addiction and mental harm through parental controls, frequent warning messages, and age-rating systems.
The gamers will have the option to opt-out after reaching their own limits for time or money spent.
The Ministry of Information & Broadcasting issued a fresh advisory warning media entities, platforms and online intermediaries against airing advertisements of betting and gambling platforms.
The advisory has been issued to all media formats, including newspapers, television channels, and online news publishers, and showed specific examples where such advertisements have appeared in the media in recent times
Ministry also objected to the promotion by a specific betting platform that encouraged the audience to watch a sports league on its website in prima facie violation of the Copyright Act.
Video games where money is not involved need not approach an SRB
What are the new rules aiming to do?
Prevent user harm, such as self-harm and psychological harm, from online gaming
Safeguard children from inappropriate or harmful online games by using parental or access control and age-rating mechanism
Reduce the risk of gaming addiction, financial loss and financial fraud by warning users repeatedly and allowing them to exclude themselves upon user-defined limits being reached for time or money spent
Ensure that online real money games are not against the interests of sovereignty and integrity of India
The rules will go a long way in helping India to become a global leader in gaming and also contribute to the continued success of Brand India and Create in India.
The legal framework provided by the new rules will boost investor confidence
Rules will ensure the responsible and transparent growth of the industry, safeguarding consumer interests while curbing the proliferation of illegal offshore gambling sites
The clear definition of real money and permissible games will be crucial in catalysing the growth of legitimate industry players.