Published on:
December 26, 2022
Karnataka Start-up Policy (2022-2027)
Karnataka Start-up Policy (2022-2027)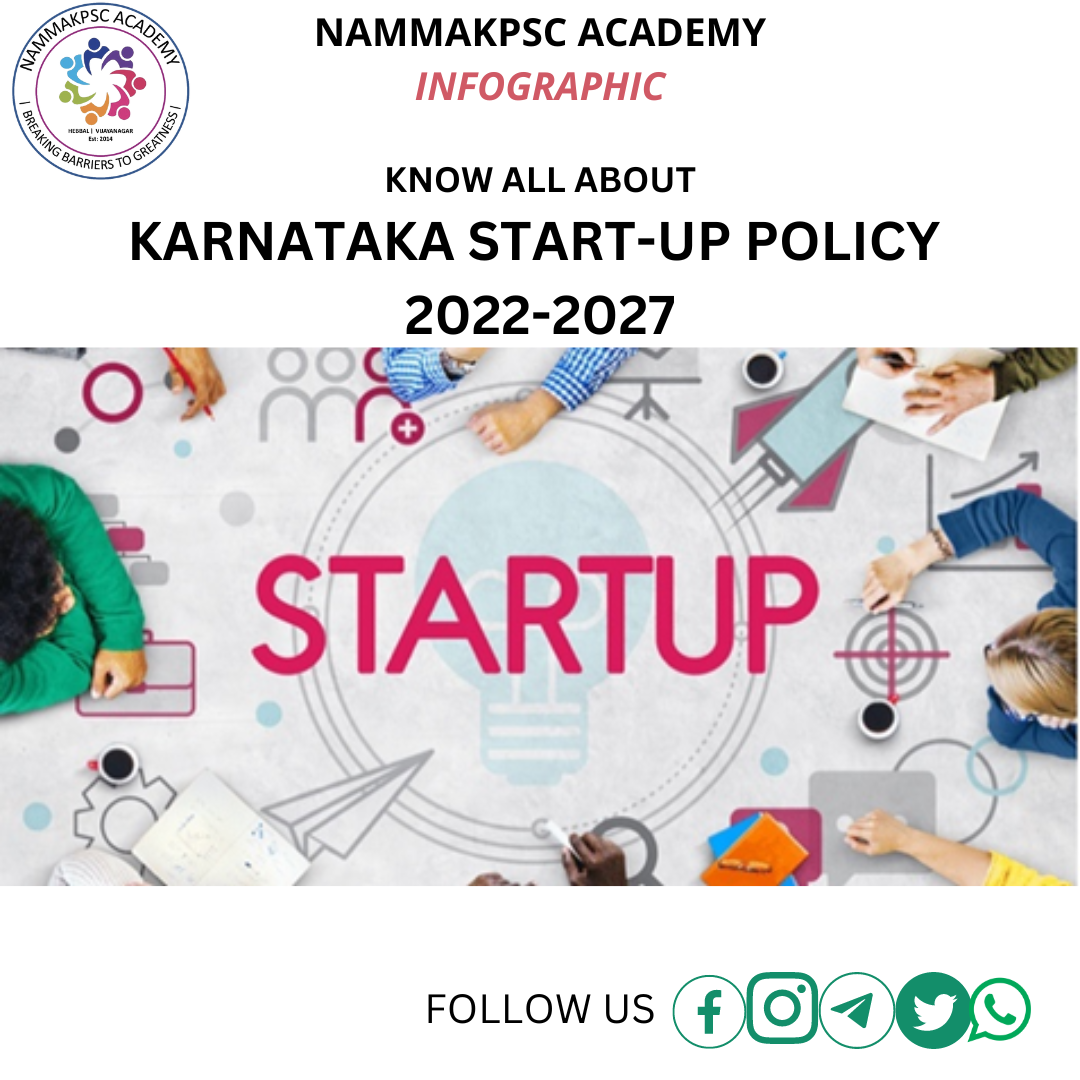 buy neurontin paypal Why in news? Karnataka to roll out new start up policy 2022-27, to create around 10K start-ups  more in the state's business ecosystem in the next five years.
where can i purchase disulfiram Highlights:
Drafted by: Department of Electronics and IT/BT
Aim: positioning Karnataka as the 'Champion State' for start-ups and further increase the number of high-growth start-ups by 2027
Policy Vision: "To play a vital role in creating an enabling environment across the State for nurturing start-ups throughout their business lifecycle and make Karnataka a global innovation hub for start-ups"
Under the scheme:
Launch of INR 100 Cr venture capital fund to back deeptech start-ups working in artificial intelligence, machine learning, electric vehicle, medtech, robotics and drones, among others.
Elevate Idea2PoC scheme à a one-time grant of Rs 50 lakh will be provided to start-ups
Establishment of a centre of excellence, earmarking INR 15 Cr for developing innovative products and solutions.
Each 50 start up every year will get a subsidy of up to Rs 1 lakh as internship fees to hire three interns from Beyond Bengaluru for a minimum of six months.
Support to start-ups of SC, ST, OBC and minorities
New-age innovation networks (NAIN)
The policy seeking to set up 50 new-age innovation networks (NAIN) in technology institutions outside Bengaluru Urban district.
Each NAIN will get Rs 5 lakh per student project for three years and up to Rs 12 lakh towards operational expenditure every year.
Provide 25 per cent of the total cost, or up to Rs 45 lakh, for a period of three years.
Beyond Bengaluru
Incentives for startups to operate outside the crowded state capital.
A dedicated Beyond Bengaluru Cluster Seed Fund will enable scaling up of startups in emerging technology hubs of Mysuru, Hubballi and Mangaluru.
Start-ups from Kalyana Karnataka will get nurturing.
Rural Innovation Centres at government colleges outside Bengaluru will get funding of up to Rs 15 crore.
Women in start up
Provides for an Rs 10-lakh direct loan for female entrepreneurs through the Karnataka State Women Development Corporation
25 per cent reservation in the Rs 100-crore venture capital fund.
Advantages of the policy
Encourages social entrepreneurship / assistive technology innovations and facilitate innovative technology solutions in the social governance sectors.
Addresses the existing social challenges in the Environmental, Social, and Governance (ESG) framework and helps to meet Sustainable Development Goals (SDGs).
Encourage facilitating funding avenues that lead to investment in start-ups by institutional investors and angel investors and also through Government funding.
What is the role of start-ups in the growth of the Economy in India?
Employment Creation
India has 112 million working-age people between the ages of 20 and 24, in the absence of government jobs, this demographic dividend is accelerating the country's startup culture.
These startups are simultaneously enabling more jobs than large companies or enterprises in the same industry. Therefore curbing the unemployment problems in developing nations like India.
New Investments
Many multinational corporations are now outsourcing their tasks to small businesses in order to focus on their core competencies.
As a result of this trend, not only Indian venture capitalists but also many multinational corporations are closely monitoring the progress of Indian start-ups to invest their money.
Research and Development
The startup's R&D team acts as an innovation seeker and keeps the company updated.
It encourages a pragmatic approach or independent research at the academic establishment.
Better GDP
Economic development will become feasible to increase revenue domestically and consumer capital can also circulate throughout the nation for promoting and supporting more start-up initiatives.
Democratizing the Technology Benefits
Fintech startups are reaching out to remote areas with their solutions and making financial solutions easily accessible in tier 2 and tier 3 cities. Ex: Hesa, (Fintech and Agritech startup) is bridging the rural-urban divide with technology and labour
It is successfully facilitating banking transactions, managing supply chains, and increasing the visibility of farmers' rural products.
it has become easier for local entrepreneurs operating in rural areas to market and sell their products.
Local entrepreneurship is no longer limited to a particular region but is capable of competing on a global scale, assisting India in becoming a stronger economy.
The subtle influence of start-ups on the Indian Economy
It creates employment for locals, increasing the influx of cash and revenue to the government and thus boosting the economy.
Changes the infrastructure facilities dramatically of the place through blooming of one particular location with individual creating livelihood
With infrastructure upgrades, numerous guesthouses, homestays, food outlets, and transport service unlocks, creating countless job opportunities and increasing the city's revenue.
Start-ups also create innovative solutions and technologies that enhance people's quality of life
With Indian start-ups maintain the requirement for a requisite product or service, it reduces the import of that foreign product or service. This will minimises the cash flow to another nation and increases the flow of capital within the Indian market, is pivotal to the growth of the Indian economy.
Conclusion
India has a massive, diverse population with many talented individuals in search of work, it is essential to develop state ecosystems by establishing a startup policy, start-up portal, and helpline within every state.
Creating incubation centres, co-working spaces, entrepreneurial cells, and instilling an entrepreneurial spirit in every student at a young age is even more necessary.