Published on:
August 3, 2023
Karnataka Tourism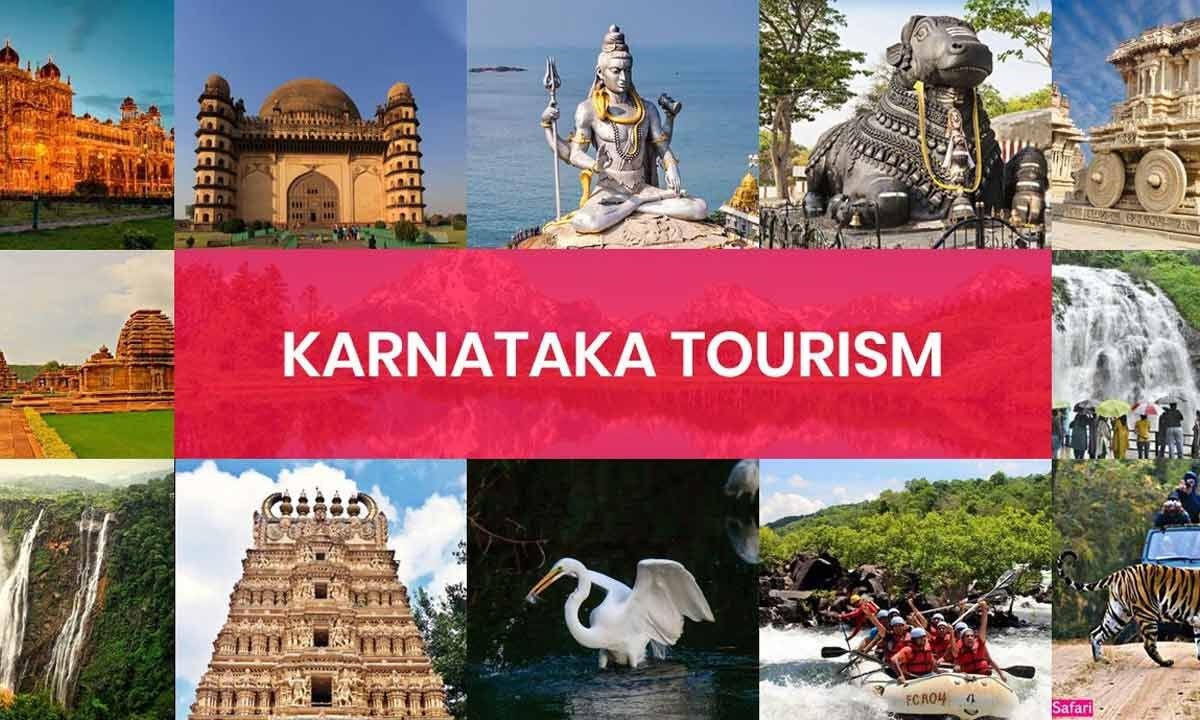 Why in news? Monsoon  tourism in Karnataka has taken a severe hit as the flash floods in different parts of the country have led to tourists avoiding places where there is more rainfall.
Highlights:
An average 60% drop has been observed by tour operators in the bookings made during the season this year.
Kerala has been promoting monsoon tourism in a very good way. Karnataka is yet to do that, especially with coastal tourist destinations and interior Karnataka region.
Kodagu, Chikkamagaluru and other regions in the Malenadu belt saw less number of tourists this year.
Karnataka is primarily known for its Heritage destinations and its Wildlife/ National Parks. Apart from that, it is also famous for its magical hill stations, spectacular waterfalls, pilgrimage centres and a 320km long coastline dotted with un-spoilt beaches.
Different types of tourism
Karnataka, with its tagline of "One State, Many Worlds" offers a diverse array of tourism offerings that are
Adventure Tourism: Karnataka's geographical and cultural diversity creates wonderful possibilities for the development of all types of land-based, water-based and air-based adventure activities.
Agri Tourism and Rural Tourism: It offers local cuisine, culture, traditions, arts, and sports that increases the participation of rural communities in tourism activites that can reap the socio-economic benefits
Caravan Tourism: It provides flexibility with respect to itineraries and accommodations and has the potential to add a new dimension to tourism in the State
Coastal Tourism and Beach Tourism: Comprehensive development of coastal tourism in Karnataka is undertaken in accordance with the "Karnataka Maritime Perspective Plan" Swadesh Darshan and Sagarmala projects. It also helps in development of Maritime Tourism and Inland Water Tourism through  obtaining Blue Flag certification for the State's beaches.
Cultural Tourism: Cultural tourism is developed through organizing major festivals and events. It showcases the rich and diverse cultural heritage of Karnataka with a focus on arts, crafts, and cuisine of the State
Mysuru is regarded as the cultural capital of Karnataka and programs to develop the city as a premier tourism destination globally is undertaken
Eco Tourism: Jungle Lodges and Resorts Limited (JLR) shall be the nodal agency for the development and promotion. It shall focus on increasing awareness towards conservation and sustainability of biodiversity and natural environments
Gastronomy (Cuisine) Tourism: Karnataka Tourism shall seek to develop and promote gastronomy trails that showcase the rich culinary heritage of the State. Collaboration with Karnataka Wine Board and Coffee Board of India to develop modern innovations in the State's cuisine
Heritage Tourism: Karnataka has three UNESCO World Heritage sites, efforts shall be made for the inclusion of more heritage sites recognition and attracting tourist traffic to these sites.
Government is implementing the "Samrakshane" scheme for the conservation and restoration of structures of heritage importance in Karnataka.
MICE Tourism and Business Tourism: Bengaluru has excellent prospects for business tourism and shall be promoted as a premier MICE (Meetings, incentives, conferences and exhibitions tourism) hub of India.
Spiritual Tourism: Support shall be extended for the creation of spiritual tourism circuits taking into account the various religious and spiritual institutions of Karnataka.
"Jeevana Chaitra Yatre" program to enable selected beneficiaries in the State who have crossed 60 years and are below the poverty line, to visit famous pilgrimage centres shall be pursued.
Wellness Tourism: Karnataka Tourism shall work closely with the Department of Ayurveda, Yoga and Naturopathy, Unani, Siddha and Homeopathy (AYUSH) to develop Karnataka as a top wellness tourism destination in India.
Key Focus Areas for Karnataka Tourism Development
Infrastructure Development: Department had endeavour for the development of world-class tourism infrastructure at identified key destinations in Karnataka
Tourism Products: It encourage and facilitate the development of the widest assortment of tourism products
Skill Development and Training: Meaningful opportunities for gainful employment and support the development of a large talent pool for the tourism sector that can enable the rapid and inclusive growth of tourism
Tourist Comfort and Safety: Enhancing Karnataka's position as a safe destination by ensuring a comfortable and inclusive experience for all tourists visiting Karnataka and by adopting safety and hygiene measures
Community Participation: Greater participation of local community in tourism activities to create inclusive socio-cultural growth and generate economic benefits
Sustainable Tourism: Balance between the environmental, socio-cultural and economic aspects of tourism development through the promotion of sustainable and responsible tourism practices
Tourism Analytics and Digital: Analytics-driven approach for planning and decision-making and provide innovative digital solutions to enhance the quality of services across the tourism ecosystem
Way forward
Karnataka Tourism Policy 2020-25 Policy proposes strategic interventions, attractive incentives and requisite regulatory reforms to facilitate investment in the tourism sector. The Policy strives to create a sustainable tourism ecosystem in Karnataka and lays emphasis on providing a safe and high-quality experience for tourists.