Published on:
November 8, 2021
MAHITI FOR MAINS : AGRITECH STARTUPS
MAHITI FOR MAINS : AGRITECH STARTUPS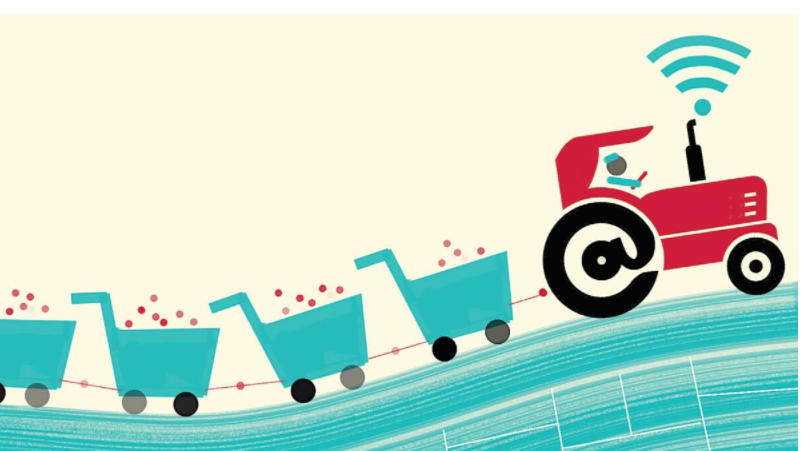 Agritech, also known as Agtech, comprises technological innovations and capabilities that change how food and other agricultural products are grown, harvested, packaged, stored, transported, processed and sold – making the farm-to-table process more efficient, sustainable and safe.
POTENTIAL IN INDIA
Currently, it is estimated that there are about 600 to 700 agritech startups in India operating at different levels of agri-value chains. Many of them use artificial intelligence (AI), machine learning (ML), internet of things (IoT), etc, to unlock the potential of big data for greater resource use efficiency, transparency and inclusiveness.
Ninjacart, Dehaat, and Crofarm (Otipy) are a few of the many startups that are redefining the agrifood marketplace.
Dehaati Beej Se Baazar Tak is a full-stack agri service startup that engages through B2F (business-to-farmer) and F2B models. It uses data science, agriscience and analytics to nurture a thriving ecosystem of farmers, micro-entrepreneurs and institutional buyers. Crofarm is a F2B digital supply chain that manages logistics, inventory and supply oBf fresh produce directly from farms to retail chains like Big Bazaar, Reliance Retail, BigBasket and Grofers
The agritech startups have a growing footprint. Dehaat is present in Bihar, West Bengal, Odisha, and Uttar Pradesh, working with 6,50,000 farmers through 1,890 Dehaat Centres.
The startups have had a demonstrated impact. Ninjacart reduced wastage to 4 per cent compared to up to 25 per cent in traditional chains through demand-driven harvest schedule. Logistics optimisation enabled delivery in less than 12 hours at one-third the cost in traditional chains. Farmers' net incomes are reported to have increased by 20 per cent.
WHAT HAS INDIA DONE
'AGRI UDAAN'- Food and Agribusiness Accelerator 2.0 was announced by the ICAR-NAARM Technology Business Incubator (TBI), a-IDEA and the Indian Institute of Management Ahmedabad's (IIM-A) incubator Center for Innovation, Incubation and Entrepreneurship (CIIE). The objective of this programme was to help the selected innovative startups to scale up their operations in the agricultural value chain for any effective improvement in the field of agriculture.
Agriculture Infrastructure Fund is a central sector scheme that will enable a financing facility of Rs.1 lakh crore for funding agriculture infrastructure projects at farm-gate and aggregation points such as farmers producers organisations, primary agricultural cooperatives, startups and entrepreneurs in the agriculture sector.
A component, Innovation and Agri-entrepreneurship Development programme has been launched under Rashtriya Krishi Vikas Yojana in order to promote innovation and agripreneurship by providing financial support and nurturing the incubation ecosystem. These start-ups are in various categories such as agro-processing, artificial intelligence, digital agriculture, farm mechanisation, waste to wealth, dairy, fisheries etc.
Agri-hackathon 2020 was organised by the Department of Agriculture and Cooperation and Farmers' Welfare in association with IARI, Pusa, New Delhi. It will bring together the most important stakeholders from industry & government alongside India's young bright minds.Also it will collaborate creative startups and smart innovators who will build new, fast and frugal solutions to tackle the big questions we're facing today.
WHAT NEXT
Agritech startups-led e-commerce platforms have the potential to steer the shift from government-controlled agricultural markets towards more demand-driven digital markets. However, the sustainability and scalability of these ventures will be critical over time. There is likely to be a lot of churning, with many ventures falling out, others consolidating through mergers and acquisitions. In India, the biggest challenge will be to sustain and scale up the farmer outreach.
The startup-FPO partnership can be further strengthened by incentivising the FPOs under the central government's programme to add 10,000 new FPOs by 2024. The network of agritech startups, incubators, accelerators and investors needs to work closely with policymakers, academia, think tanks, and government departments to develop a more nuanced understanding of the dynamics of the agrifood sector. This will also enable the government and policymakers to leverage the existing agritech pool and co-create solutions for shared value.
If policies, institutions and partnerships can harness the current momentum, the startup ecosystem can be the next-generation technology revolution in the agrifood sector.