Published on:
July 25, 2023
NANOTECHNOLOGY IN HEALTHCARE
NANOTECHNOLOGY IN HEALTHCARE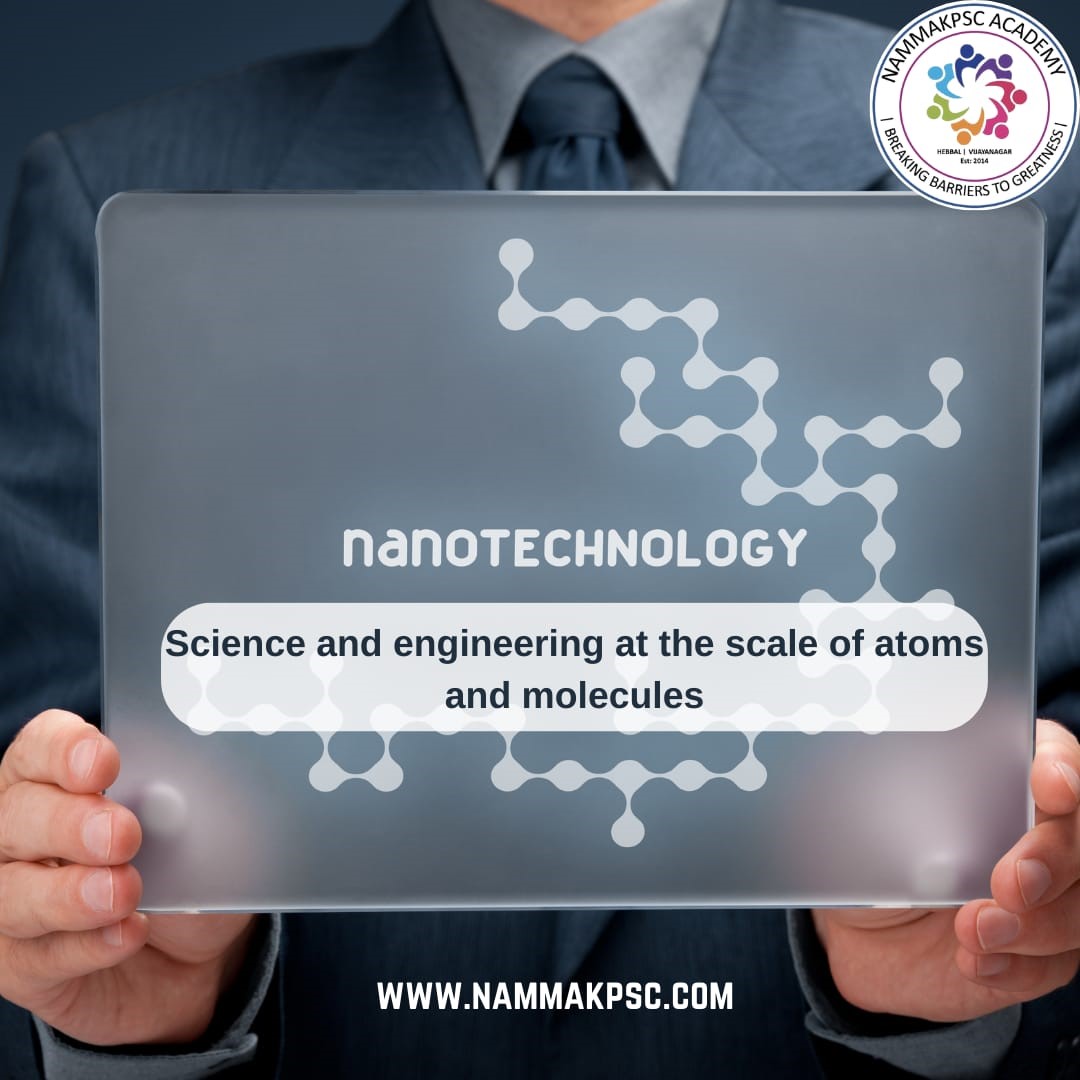 Nanotechnology is science and engineering at the scale of atoms and molecules
How Nanotech is a major player in Health sector?
Nanomedicine
Treatment and diagnostics of various diseases using nanoparticles in medical devices
Smart pills – sensing, imaging, and drug delivery through nano-level electronic devices that are shaped and designed like pharmaceutical pills
Cancer detection and treatment – Through efficient delivery of drugs and other therapeutic treatments to specific tumor sites and target cells with low toxic side-effects
Nanobots
Micro-scale robots, which essentially serve as miniature surgeons
Repair and replace intracellular structures
Replicate in Body to correct a deficiency in genetics or even eradicate diseases by replacing DNA molecules (under development)
Clear artery blockages by drilling through them
Nanofibers
Used in wound dressings, surgical textiles, implants, tissue engineering, and artificial organ components
'Smart bandages', which when left on the site, will absorb itself into the tissue once the wound heals.
Nanotech-based wearables
Remote patient monitoring
Embedded nano sensors in the cloth that record medical data such as heartbeat, sweat components, and blood pressure
Helps save lives by alerting the wearer and medical professionals of any adverse changes faced by the body
ADVANTAGES OF NANAOTECH IN HEALTHCARE
Increased sensitivity:

High surface area-to-volume ratios in these techs allows for enhanced interactions with biological molecules
Increased sensitivity enables the detection of very low concentrations of biomarkers or disease-related molecules, even in early stages of diseases

Early Disease Detection: Nanotechnology-based diagnostic tools can detect diseases at their early stages, even before symptoms become apparent
Point-of-Care testing: Development of portable and rapid diagnostic devices that can be used at the point of care, such as in a doctor's office, at home, or in resource-limited settings. This improves accessibility to healthcare, especially in remote or underserved areas
Non-Invasive testing: Development of non-invasive diagnostic techniques, reducing the need for invasive procedures and improving patient comfort
Imaging enhancements: Contrast agents in various medical imaging modalities, such as magnetic resonance imaging (MRI), computed tomography (CT), and ultrasound. These agents improve imaging sensitivity and specificity, aiding in more accurate diagnoses
Targeted Drug Delivery: Targeted drug delivery minimizes side effects and improves the efficiency of treatments.
Biomarker discovery: Help identify new biomarkers for specific diseases, leading to better diagnostic criteria and personalized medicine approaches
Cost-effectiveness: Has the potential to lower the cost of medical diagnostics and improve healthcare efficiency through miniaturization and automation of diagnostic devices
Concerns of using nanotechnology in healthcare:
Toxicity, characterization, and exposure pathways
Lack of proper knowledge about the effect of nanoparticles on biochemical pathways and processes of the human body
Governmental Initiatives to Promote Nanotechnology
Nano Science and Technology Mission (NSTM):
Launched in 2007
Umbrella programme that aims to promote research and development in nanotechnology
Objectives include the promotion of research, infrastructure development to support the research, development of nanotechnology, human resources, and international collaborations.
Nano Science and Technology Initiative (NSTI):
Set up by the Department of Science and Technology (DST) in 2001 to focus on issues related to infrastructure development, research and application programmes related to nanomaterials including drugs, drug delivery, gene targeting and DNA chips