Renewable Energy Sector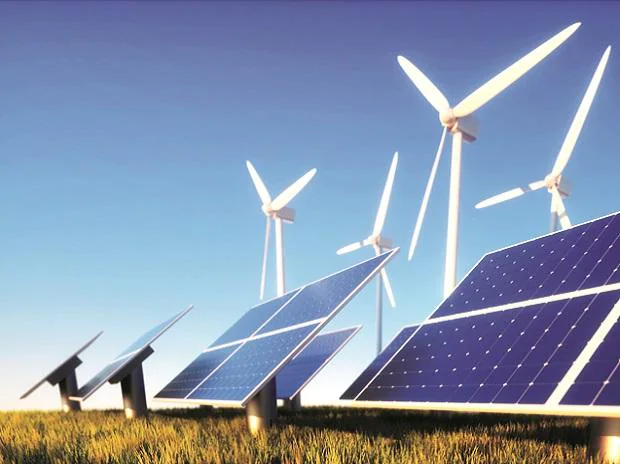 Q) Improvements in Renewable Energy technologies and overcoming the challenges is the need of the hour in Discuss.
Karnataka will soon be the flag bearer of the country's renewable energy sector as it is already the single largest ethanol production hub in Asia, opined an expert panel on energy spoke at Global Investors' Meet in Bengaluru.
Highlights:
Renewable energy (RE) comprises green energy, solar, and wind storage and other sources.
It has accounted for 2 lakh crore of the total 9.82 lakh crore-worth investment commitment made by diverse industry segments during the 2022 edition of Global Investors'
Green energy developer Avaada group company would invest 45,000 crores in a green hydrogen and ammonia plant in Karnataka
Benefits : it captures a sizable chunk of the investments and it would result in the creation of 35000 fresh jobs in the state
How Karnataka is a flag bearer of Renewable energy
?
Karnataka is the first southern State in India to notify "Karnataka Renewable Energy Policy 2009-14" in 2009 to harness green, clean renewable energy sources for environmental benefits and energy security
It lead to cheaper generation of electricity source in India (especially solar and wind energy), for replacement of existing conventional power generation capacities with renewable power generation capacities.
This policy promotes solar-wind hybrid energy storage or any other renewable energy with storage system which shall provide high generation , firmness and flexibility in supply
The advancement of technologies coupled with declining cost of technologies and the existence of demand for cost effective renewable energy in the country from other States lays a prospect for Karnataka to develop more RE projects.
The focus of policy is to advance the RE market development in the State and facilitate Government of India in meeting the RE target of 175 GW by the year 2022 or any other capacity targeted thereafter
Measures taken for development of key market in the State:
Green Energy Corridor
State is strengthening its transmission infrastructure and this Policy will focus on development of Green Energy Corridor for evacuation of large-scale RE projects
Renewable Energy Parks
Karnataka is home to one of the World's largest solar parks "Pavagada Solar Park" with an operational capacity of 2,050 MW.
Ministry of New and Renewable Energy identified sites for wind park development in Karnataka at Chitradurga, Davanagere and Ballary
Chikkodi in Belgaum has highest wind potential
Maximum Bio resource potential is in Channagiri Taluk in Davangere
Solar Energy Projects
Karnataka is leading in installation of solar energy capacity in the country. To tap the existing solar energy opportunities, the Policy will focus on promotion and development of following solar markets in the State:
Grid connected MW scale solar projects;
Rooftop Solar PV Projects
Distributed Solar Generation
Ground mount and Rooftop Solar PV Projects for charging the Electric Vehicles (EVs) and Battery Swapping Stations and
Floating Solar Projects
Energy Storage Projects for Renewable Energy
This Policy will focus on development of energy storage market including pumped hydro storage with objective of integrating more RE in to the grid
It offers grid support services such as peak reduction, curtailment management, contribution to reliability needs, managing intraday variation and seasonal variation and others .
Biomass, Co-generation and Waste to Energy Projects
State is leading in development of biomass projects with strong agricultural activities with vast biomass resources.
State has installed about 139 MW biomass projects
Mini and Small-Hydro Projects
Karnataka is endowed with hydro power potential which is estimated to be about 3,100 MW out of which the State has installed about 903 MW (According to report 2021)
What are the New Initiatives/Pilot Projects/Research and Development?
The projects developed within the RE Park can sell energy to ESCOMs/Procurers, intermediaries like SECI or any consumer under open access within Karnataka / outside the State .
Hybrid Projects can be Wind-Solar or any other RE sources with or without energy storage system
Peer-to-Peer (P2P) Trading of Rooftop Solar PV Energy between two or more grid-connected parties in a secured and reliable way with proper accounting and billing mechanismimplemented with the help of Block chain technology
The Government of Karnataka will promote Solarization of existing grid connected Irrigationpumps through feeder Solarization
State will promote development of floating solar on existing reservoirs/dams of hydro stations or any other water bodies including reservoirs and lakes
It will promote use of RE for charging the electric vehicles and battery swapping stations with the aim of greening the transportation sector
The Government of Karnataka will promote co-generation projects with scheme on BIOURJA, Biomass based Cogeneration in Sugar Mills and other industries or any other forthcoming programs/schemes
For promotion of Bio-CNG generation from wastes, existing schemes such as "Sustainable Alternative Toward Affordable Transportation (SATAT)" under Ministry of Petroleum and Natural Gas will be supported by the Government of Karnataka
Policy measures :
the Karnataka Renewable Energy Policy (2022-27)
It provides for developing the State as a hub of renewable energy generation as well as manufacturing of equipment related to renewable energy.
It also envisages upgrading the renewable energy generation capacity of the State to 10 GW in the next five years. This includes 1 GW of rooftop solar energy. Presently, the State has renewable energy generation capacity of 15,392 MW.
It aims at developing Karnataka as the major exporter of renewable energy to other States by utilising the opportunities in the State for maximining renewable energy generation.
The policy also envisages economic development of Karnataka by attracting investments in the field of renewable energy generation in a massive way.
the new policy is focusing on creation of market for development of suitable storage capacity for the proposed increase in generation of the renewable energy. As part of measures to increase generation of renewable energy, the policy wants to promote floating solar and hybrid generation units in the hydel stations.
What are the challenges?
solar power auctions have been delayed due to the concerns about the limited transmission system capacity
Lack of transmission infrastructure could be one of the hindrances for the effective harvesting of electrical power from solar energy resource
The integration of rooftop solar PV systems to the low voltage distribution system is a challenging task as the transmission utilities are better equipped to manage the integration of large-scale power stations with higher voltage levels.
The government has mandated the investors to use the solar PV modules manufactured in India only, to avail the subsidies from the government.
Even though 60% of the state's total renewable energy potential has been 'allocated' by KREDL, only about 15% has been commissioned.
The climate variations in Karnataka swing between extremes from floods to droughts, adding to the rural distress in the southern state.
What lies ahead?
With its wide availability of resources, it has been able to keep the biomass- cogeneration high but other growth in other resources was slow.
However, recent initiatives like the largest solar park in the world in Karnataka and 24X7 Power for All, have brought the city to number three in India with the highest production of renewable energy.
Efforts of KREDL, along with the central government haven't been in vain and the future of the state is in good hands.