Published on:
November 21, 2022
Baba Budan giri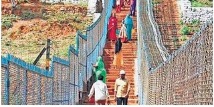 Why in news?
The State government has appointed an eight-member management committee to manage Sri Guru Dattatreya Bababudan Swamy Peetha/Dargah, a syncretic cave-shrine atop Bababudangiri in Chikkamagaluru taluk.
Highlights:
The government constituted the committee as per the recommendations of the Cabinet sub-committee headed by J.C. Madhuswamy, Minister for Law and Parliamentary Affairs. It recommended the constitution of the management committee involving representatives of both Hindus and Muslims.
It suggested the appointment of both a Hindu priest and a Muslim Mujawar to perform the rituals at the shrine.
The Karnataka State Endowments department at its meeting decided to constitute the committee under Section 25 of the Karnataka Hindu Religious Institutions and Charitable Endowments (Amendment) Act, 2011.
What is the cave dispute?
Dattatreya, shrine was once named, is considered by some Hindus to be God who is an incarnation of the Divine Trinity Brahma, Vishnu and Maheshwara (Shiva), in the form of Avadhuutha (God intoxicated monk).
A Sufi saint known as Baba Budan is believed to have later been in the same cave for some time.
Some Hindus have making a claim over the shrine, which is controlled by Muslims. This has led to tension between the two communities.
About Bababudangiri
It's a mountain range of the Western Ghats of India.
Located at : Chikmagaluru
Originally known as Chandra Drona Parvatha
Dattatreya peeta is known for its shrine to a pilgrimage site for Hindus and Muslims.
It is named after the Sufi saint Baba Budan, said to have brought coffee to India
The Baba Budan Giri Range includes the highest peaks of Karnataka.
Unique mountain flowers called kurinji blooms in these hill ranges once every 12 years
Peaks in the Baba Budan Giri Range include:
Mullayanagiri
Dattagiri/Baba Budan Giri
Bindagadammanagiri
Sithalaiyyanagiri