Published on:
November 2, 2022
Bhoota Kola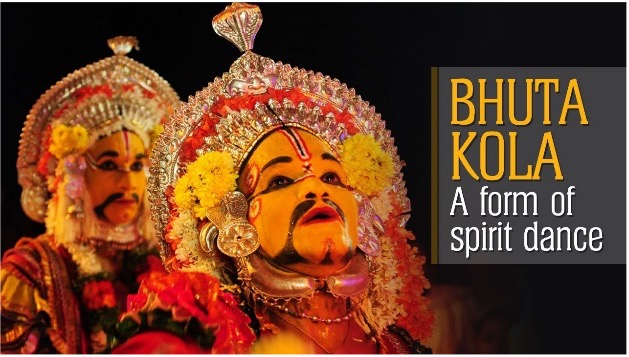 Why in news?
The controversy around Bhoota Kola ritual depicted in the movie  Kantara.
Highlights:
It also referred to as daiva kola or nema, is an animistic ritual dance performance prevalent among Hindus of Tulu Nadu and parts of Malenadu of Karnataka and Kasargod in northern Kerala, India.
The dance is highly stylized and held in honor of the local deities worshiped by the Tulu speaking population. It has influenced Yakshagana folk theatre.
It is closely related to Theyyam of neighbouring Malayalam-speaking populations.
Paddanas: Epics are known as paḍdanas. They  are songs that form a major part of Tuluva oral literature. Much of the body of this literature has been built on the legends of the būtas and daivas
The secular function of the kola or nema has been described as a "sacred court of justice" where traditional (feudal) moral ideals are brought to bear on difficult real-life situations.
Buta kolas and daiva nema are assemblies of the entire village. Thus they become an occasion to resolve conflicts in the village
The ritual performance at a Buta kola or daiva nema involves music, dance, recital, and elaborate costumes.