Published on:
November 26, 2022
China-Qatar energy deal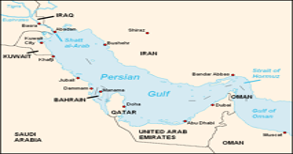 Why in news?
China signed a 27-year deal for LNG supply with the tiny gulf monarchy, probably the longest in terms of duration in the history of LNG.
Highlights
It is the second deal between China and a major Persian Gulf energy
Qatar, one of the world's tiniest countries in the Middle East, is the world's largest Liquefied Natural Gas (LNG) exporter.
The agreement provided an impetus for China and Iran to deepen their strategic partnership. It helped that both share an anti-American strategic outlook.
Provides a sound rationale for China to expand its regional economic and military presence in gulf region
North Field is at the centre of Qatar's expansion of its liquefied natural gas production
Persian Gulf
It is a Mediterranean sea in Western Asia.
Extension of the Indian Ocean located between Iran and the Arabian Peninsula
It is connected to the Gulf of Oman in the east by the Strait of Hormuz.
The Shatt al-Arab river delta forms the northwest shoreline.
The Persian Gulf has many fishing grounds, extensive reefs (mostly rocky, but also coral), and abundant pearl oysters, but its ecology has been damaged by industrialization and oil spills.
Cenozoic origin and related to the subduction of the Arabian Plate under the Zagros Mountains
Primary inflows: Gulf of Oman
Basin countries : Iran, Iraq, Kuwait, Saudi Arabia, Qatar, Bahrain, United Arab Emirates and Oman
North field/ South Pars/North Dome Gas-Condensate field
It is a natural-gas condensate field located in the Persian Gulf.
It is by far the world's largest natural gas field
Ownership of the field : Shared between Iran and Qatar.