Published on:
October 10, 2022
Dasara tableaux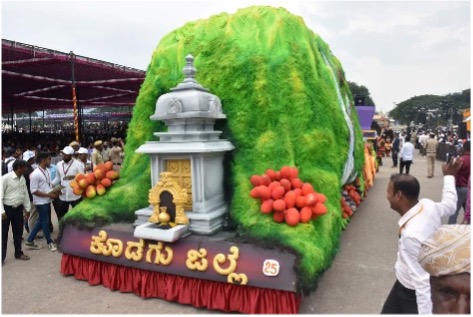 Why in news?
Kodagu district has won the first prize for its tableau at the Dasara procession in Mysuru.
Highlights:
The second prize was won by the tableau from Mysuru district, the third prize went to Chitradurga district.
The procession had tableaux from 31 districts besides four from tableaux sub-committee and 12 from boards and corporations and government departments.
The consolation prizes went to Chickmagalur district, Tumakuru district and a model of Somanathapura temple created by the Tableau Sub-Committee and Vijayapura district.
Under the category of boards and corporations and government institutions, the first prize went to Karnataka Skill Development Authority.
The second and third prizes were bagged by KMF for featuring Nandini milk products and Lidkar for representing leather products.
Know your festival
Mysore Dasara is the Nadahabba (state festival) of the state of Karnataka in India. It is a 10-day festival, starting with nine nights called Navaratri and the last day being Vijayadashami. The festival is observed on the tenth day in the Hindu calendar month of Ashvija, which typically falls in the Gregorian months of September and October.
The Hindu festival of Dasara, Navratri and Vijayadashami celebrates the victory of good over evil.
The Mysuru tradition celebrates the warriors and the state fighting for the good during this festival, ritually worshipping and displaying the state sword, weapons, elephants, horses along with Hindu Devi goddess in her warrior form (predominantly) as well as the Vishnu avatar Rama. The ceremonies and a major procession is traditionally presided by the king of Mysuru.
The city of Mysuru has a long tradition of celebrating the Dasara festival with grandeur and pomp to mark the festival. The Dasara festival in Mysuru completed 413th anniversary in the year 2022, while evidence suggests the festivities were observed in Karnataka state by the Vijayanagara Empire kings in the 15th century
The Dasara festivities began with the Vijayanagar kings as early as the 14th-15th Century. The festival played a historical role in the 14th-century Vijayanagara Empire, where it was called Mahanavami and the festivities are shown in the relief artwork of the outer wall of the Hazara Rama temple of Hampi.
The Italian traveller Niccolò de' Conti described the festival's intensity and importance as a grandeur religious and martial event with royal support. The event revered Durga as the warrior goddess (some texts refer to her as Chamundeshwari).
The celebrations hosted athletic competitions, singing and dancing, fireworks, a pageantry military parade and charitable giving to the public.
After the fall of the Vijayanagar to Deccan Sultanates, these Hindu celebrations came to an end under Muslim rulers. The Wodeyars of Mysore formed a kingdom in Southern parts of the Vijayanagara Empire and continued the Mahanavami (Dasara) festival celebration, a tradition started initially by Raja Wodeyar I (1578-1617 CE) in mid-September 1610 at Srirangapatna