Published on:
October 10, 2022
The Indian-made LCH 'Prachand'
The Indian-made LCH 'Prachand'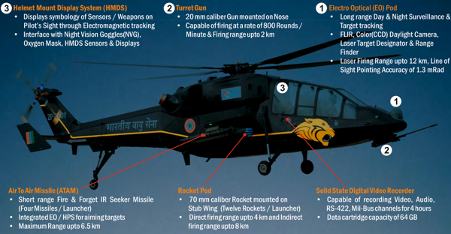 Why in news?
The indigenously developed Light Combat Helicopter (LCH) 'Prachand', meaning fierce was formally inducted into the Indian Air Force at the Jodhpur airbase.
Highlights:
Designed and developed by: Hindustan Aeronautics Ltd (HAL)
About LCH:
The multi-role attack helicopter has been customised as per the requirements of the Indian armed forces to operate both in desert terrains and high-altitude sectors.
The LCH is the only attack helicopter in the world that can land and take off at an altitude of 5,000 metres (16,400 ft), which makes it ideal to operate in the high altitude areas of the Siachen glacier.
It is also capable of firing a range of air-to-ground and air-to-air missiles and can destroy air defence operations of the enemy.
The LCH meets the requirements of modern warfare and necessary quality parameters under varied conditions of operations. This versatile helicopter perfectly meets the needs of our armed forces in various terrains and as such LCH is an ideal platform for both our Army and Air Force
Powered by twin Shakti engines, a collaborative effort of the HAL and France's Safran company, the LCH is a 5.8-tonne class combat helicopter with potent ground attack and aerial combat capability.
The helicopter possesses modern stealth characteristics, robust armour protection and formidable night attack capability. Onboard advanced navigation system, guns tailored for close combat and potent air to air missiles make the LCH especially suited for the modern battlefield
The helicopter can fly at a maximum speed of 288 kmph and has a combat radius of 500 km, which can go up to a service ceiling of 21,000 feet, making it ideal to operate in Siachen.
It incorporates several stealth features like reduced radar and infra-red signatures, crashworthy features for improved survivability, armoured-protection systems and night attack capability.
The pilot and co-pilot, known as the Weapon Systems Operator (WSO), sit in tandem in a glass cockpit and are protected by armoured panels.
The LCH project and its development
In October 2006, the government sanctioned the design and development of the LCH. The Indian Army joined the programme in December 2013.
The HAL built four LCH prototypes — technology demonstrators or TDs — and flight-tested them with over 1,600 total flights logging 1,239 flight hours.
The helicopter prototypes were tested for around a decade under difficult conditions including sea trials in Chennai, extreme cold weather in Leh, desert conditions in Jodhpur and high altitudes in Siachen.
The ground run was first carried out in February 2010
LCH received initial operation clearance on August 26, 2017. It was declared ready for production in February 2020. A new LCH production hangar at the Helicopter Division of HAL with a production capacity of 30 choppers was inaugurated by Defence Minister Rajnath Singh.
How will the LCH give an edge to the armed forces?
The LCH helicopters can be deployed to assume air defence, anti-tank roles in high-altitude, counter-insurgency, and search and rescue operations, and are equipped with advanced technology which can be used to destroy the enemy's air defence
The LCH is equipped with requisite agility, manoeuvrability, extended range, high altitude performance and around-the-clock, all-weather combat capability. It can be deployed to perform Combat Search and Rescue (CSAR), bunker busting operations, counter-insurgency operations in the jungle and urban areas and support the ground forces