Published on:
November 3, 2022
Drone attack on Black Sea Fleet
Drone attack on Black Sea Fleet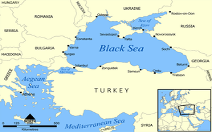 Why in news?
Ukraine has carried out a "massive" drone attack on the Black Sea Fleet in the Crimean port city of Sevastopol, damaging one warship
Highlights:
Crimea was annexed by Russia from Ukraine in 2014 and is extremely symbolic for Russian President Vladimir Putin.
Sevastopol is the largest city in the region and home to Russia's Black Sea fleet.
Russia's Black Sea Fleet was previously targeted in April this year by Ukrainian forces when its flagship, the cruiser Moskva, was sunk. The 510-crew missile cruiser had led Russia's naval assault on Ukraine, and its sinking was a major symbolic and military blow.
The Black Sea
It is a marginal Mediterranean sea of the Atlantic Ocean lying between Europe and Asia, east of the Balkans, south of the East European Plain, west of the Caucasus, and north of
Countries : It is bounded by Bulgaria, Georgia, Romania, Russia, Turkey, and Ukraine.
Rivers : It is supplied by major rivers, principally the Danube, Dnieper, and Don.
Mouth of the river : It ultimately drains into the Mediterranean Sea, via the Turkish Straits and the Aegean Sea.
Water bodies: The Bosporus strait connects it to the small Sea of Marmara which in turn is connected to the Aegean Sea via the strait of the Dardanelles. To the north, the Black Sea is connected to the Sea of Azov by the Kerch Strait.