Published on:
December 7, 2022
Ekalavya Award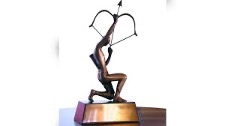 Why in news?
Shuttler Ashwini Bhat, basketballer Lopamudra Thimmaiah and Anargya Manjunath, the teenage table tennis talent, are among 15 sportspersons picked for the Ekalavya award
Highlights
Cricketer : Karun Nair and rower Tarun Krishnaprasad
Lifetime achievement award: Veteran athletics coach Gaonkar GV and Capt. Dilip Kumar (kayaking & canoeing)
Karnataka Kreeda Ratna: Pooja Gaali (atya patya), Kiran Kumar (ball badminton), Gopal Naik (kambala), Deeksha K (kho-kho), Shivayogi Basappa Bagewadi (stone lifting , Lakshmi Biredekar (wrestling), P Gopalakrishna (yoga), Raghavendra Hondadakeri (powerlifting), Sooraj Annikeri, wrestling), Shashank BM (para swimming), D Nagaraju (yoga), Shrivarshini (gymnastics), Avinash Naik (judo).
Sports promoter award : Shri Dharmasthala Manjunatheswara Educational Trust , Rajiv Gandhi University of Health Sciences RVCE , Hoodi Sports club ,Sri Bala Maruti Institution ,Eminent Shooting club , Balanjaneya Gymnasium , Basavanagudi Aquatic Centre , Padukone –Dravid Centre for sports Excellence
Ekalavya awards: Jeevan KS (athletics), Nitin (netball), Ashwini Bhat (badminton), Tarun Krishnaprasad (rowing), Lopamudra Thimmaiah (basketball), Likith SP (swimming), , Anargya Manjunath (table tennis), Danamma Chichakhandi (cycling), Ashwal Rai (volleyball), Vasundhara MN (judo), Pradhan Somanna, (hockey), Prashanth Kumar Rai (kabaddi), Radha V (para athletics), Muneer Basha (kho-kho).
About the award
It is an honorary sports award bestowed by the Government of Karnataka to sports personalities of the nation by the Department of Youth
Initiated in 1993, the honor is conferred by the "The Indian Metals Public Charitable Trust (IMPaCT)" of IMFA Group.
Cash Prize : 2 lakh

The award was established in 1993