Published on:
June 9, 2022
FOOD SAFETY INDEX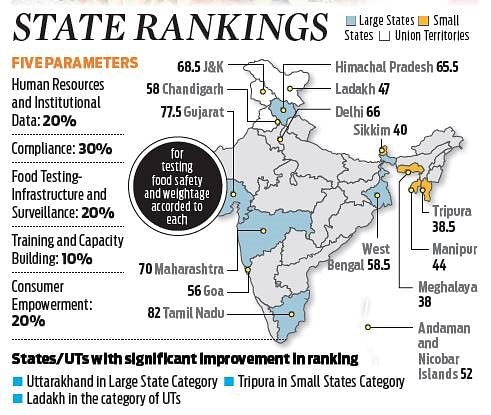 Why in news? 
Tamil Nadu has topped the Fourth State Food Safety Index 2021-22 of the Food Safety and Standards Authority of India (FSSAI), replacing Gujarat, which slipped to the second spot among 17 large states, followed by Maharashtra on the third place.
Highlights:
Tamil Nadu topped the State Food Safety Index this year, followed by Gujarat and Maharashtra this year.
Among the smaller States, Goa stood first, followed by Manipur and Sikkim.
Among the Union Territories, Jammu and Kashmir, Delhi and Chandigarh secured first, second and third ranks.
The winners were felicitated by Health Minister Mansukh Mandaviya.
Parameters:
The State Food Safety Index (SFSI) measures the performance of States on the basis of five parameters prescribed by the Health Ministry. The rating is done by the Food Safety and Standards Authority of India (FSSAI).
Initiatives launched
Mandaviya further launched various innovative initiatives by the FSSAI, including the Eat Right Research Awards and Grants – Phase II, Eat Right Creativity Challenge – Phase III, a school-level competition, and the logo for AyurvedaAahar.
This logo, which contains the initials of Ayurveda and Aahar with five leaves symbolising the five elements of nature, would be beneficial in creating a unique identity for food products and in their easy identification.
What is Food Safety Day?
The World Health Organization (WHO) and the Food and Agriculture Organization of the United Nations (FAO) jointly facilitate the observance of World Food Safety Day, in collaboration with Member States and other relevant organizations.
It was first celebrated in 2019, to strengthen the commitment to scale up food safety made by the Addis Ababa Conference and the Geneva Forum in 2019 under the umbrella of "The Future of Food Safety".

The theme for 2022 was Safer Food, Better Health.