Published on:
October 22, 2022
Great Indian Bustards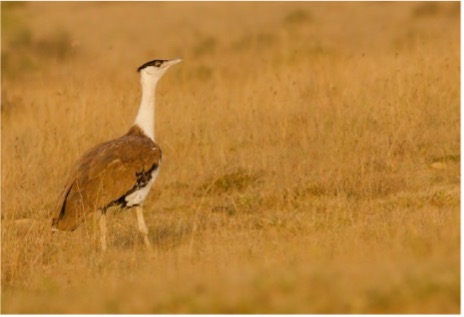 Why in news?  
The recent sighting of three Great Indian Bustards (GIBs) deep in Pakistan's Cholistan desert has given rise to speculation that the birds might have flown across the international border from India's Desert National Park (DNP)
Highlights
The birds might have migrated due to their shrinking habitat.
Its population of birds in Rajasthan accounts for 95% of its total world population
As Rajasthan shares the international border with Pakistan's Sindh and Punjab provinces, it is suspected that the GIBs might have flown across to the neighbouring country's desert amid fears that they could become easy prey for the poachers there
Great Indian Bustard
It is a bustard found on the Indian subcontinent.
IUCN status : Critically endangered
Habitat: This species was formerly widespread in India and Pakistan
It is restricted to isolated pockets in Andhra Pradesh, Gujarat, Karnataka, Maharashtra, Madhya Pradesh and Rajasthan
National Parks : Desert National Park, Kutch Bustard Sanctuary, Karera Wildlife Sanctuary, Great Indian Bustard Sanctuary near Nannaj ,Rollapadu Wildlife Sanctuary and Ranibennur Blackbuck Sanctuary
It is a the State bird of Rajasthan  is considered to be India's most critically endangered bird and is protected under the Wildlife Protection Act.