Published on:
October 22, 2022
'Illegal' axing of trees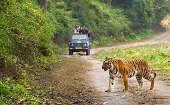 http://alittlebitdifferent.com/tag/ikea/ Why in news?
http://centralenfieldclc.org.uk/our-team/enfield-stands-together The National Green Tribunal (NGT) ordered the forest officials of Uttarakhand that it would direct the Union government to form a committee to initiate an investigation into "illegal tree cutting" in Jim Corbett National Park.
http://cymaticsconference.com/listing-preview/ Highlights
Jim Corbett National Park
It is a national park in India located in the Nainital district of Uttarakhand state.
The first national park in India, it was established in 1936 during the British Raj and named Hailey National Park
It was the first to come under the Project Tiger initiative.
The park has sub-Himalayan belt geographical and ecological characteristics. Dense moist deciduous forest mainly consists of sal, haldu, peepal, rohini and mango trees.
It encompasses the Patli Dun valley formed by the Ramganga river.