Published on:
November 29, 2022
Himalayan Yak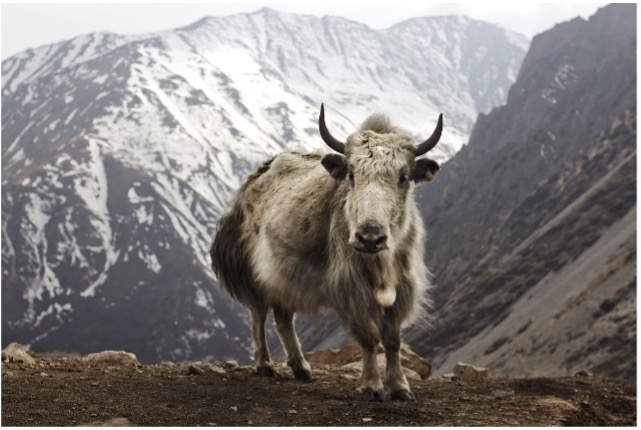 Why in news?
The Food Safety and Standard Authority of India (FSSAI) has given the 'food animal' tag to Himalayan Yak. The decision comes after the latest census.
Highlights
According to latest census, carried out in 2019, showed that India has 58,000 yaks. This was around 25 per cent drop from the last livestock census carried out in 2012.
The move will make the high-altitude bovine animal a part of the conventional milk and meat industry and will help check the decline in its population.
Yak milk is highly nutritious, rich in fat, contain essential minerals and have medicinal value.
About Himalayan Yak
Himalayan Yak, scientific name Bos grunniens, is a species of long-haired domesticated cattle.
They are found throughout the Himalayan region of the Indian subcontinent.
What is Food Animal?
According to National Research Centre (NRC), at Dirang in West Kameng district of Arunachal Pradesh, Food Animals are those that are raised and used for food production or consumption by humans.
The NRC-Yak had submitted a proposal to the FSSAI, for considering the yak as a food animal.
FSSAI responded with an official approval recently after a recommendation from the department of Animal Husbandry and Dairying.
Importance of Food Animal Tag
Yaks play multi-dimensional socio-cultural-economic role for the pastoral nomads who rear yaks mainly for earning their nutritional and livelihood security due to the virtual inexistence of other agricultural activity in the high reaches of the Himalayan region.
They are reared under transhumance system which is primitive, unorganized and full of hardship.
FSSAI's recognition of Yak as food producing animal will help farmers benefit economically for rearing the animal and it will open up several vistas of economic benefits for both farmers and food processors
About FSSAI
It is a statutory body established under the Ministry of Health & Family Welfare, Government of India.
Statutory Backup : Food Safety and Standards Act, 2006, which is a consolidating statue related to food safety and regulation in India
Headed by a non-executive chairperson, appointed by the Central Government, (Not below the rank of Secretary to the Government of India)
Current chairperson: Rajesh Bhusan
Regional offices : Delhi, Guwahati, Mumbai, Kolkata, Cochin, and Chennai.
The main aim of FSSAI is to
Lay down science-based standards for articles on food
To regulate the manufacture, storage, distribution, import, and sale of food
To facilitate the safety of food
The FSS Act took 7 older acts into one umbrella.
Prevention of Food Adulteration Act, 1954
Fruit Products Order, 1955
Meat Food Products Order, 1973
Vegetable Oil Products (Control) Order, 1947
Edible Oils Packaging (Regulation) Order 1988
Solvent Extracted Oil, De- Oiled Meal and Edible Flour (Control) Order, 1967
Milk and Milk Products Order, 1992.