Published on:
December 6, 2022
J. C Bose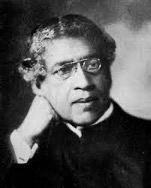 Al 'Ayyāţ Why in news?
http://ccritz.com/config.php Ministry of Culture organizes International conference on the contributions of "J C Bose: A Satyagrahi Scientist" as part of Azadi Ka Amrit Mahotsava.
Highlights:
The aim of the conference was to provide a voice to the unheard contributions of Acharya Jagadish Chandra Bose in the walks of the pre-independence era as a scientist and a freedom fighter.
About Acharya Jagadish Chandra Bose
Pioneered the investigation of radio microwave optics, made significant contributions to botany, and was a major force behind the expansion of experimental science on the Indian subcontinent.
He has been named one of the fathers of radio science.
Bose is considered the father of Bengali science fiction.
He invented the Cresco graph, a device for measuring the growth of plants.
A crater on the moon was named in his honour.
He founded Bose Institute, a premier research institute in India and also one of its oldest. Established in 1917, the institute was the first interdisciplinary research centre in Asia.

Books : Living and Non-Living (1902) and The Nervous Mechanism of Plants