Published on:
December 5, 2022
Kinnal craft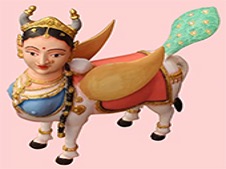 Why in news?
 The Karnataka Skill Development Authority (KSDA) soon to start training around 50 artisans in Kinnal craft. The initiative, aims to revive the traditional craft.
Highlights:
The craft is being practised by only a handful of families belonging to the Chitragara community
Artisans manufacture toys, chariots, idols, fruits and other artefacts from a special lightweight wood of 'Polaki' tree and natural-based colours.
Aim:
To instil confidence among the youths that they can earn their living through the Kinnal craft.
With training new hands, there is a need for upgrading the skills of the traditional artisans,more specifically in marketing and designing
State government has signed a memorandum of understanding with the National Institutes of Design to provide better designs and alternative material for the Kinnal artefacts
Major Constraint : Lack of skilled labourers
Kinnal craft got enriched after incorporating the Bahmani art style centuries ago. With the induction of non-Chitragara artisans, it can get a new dimension, that is the need of the hour.
Kinnal Craft or Kinhal Craft
It is a traditional wooden craft
Place of origin: The town of Kinhal(town is famous for Kinhal toys and religious idols) in Koppal District in
History : The famous mural paintings in the Pampapateshwara Temple, and the intricate work on the wooden chariot at Hampi, are said to be the work of the ancestors of the Kinhal artisans of today
Artisans Community : Chitragara.
Toys depicting people involved in various occupations were popular.
Present preference : Animals, birds, Garuda and Lord Ganesha etc
Karnataka Skill Development Authority (KSDA)
Parent organization : Department of Skill Development, Entrepreneurship and Livelihood
Vision : Centralized role in the matter of standardization and quality skills training.
The following are the aims and objectives of the Authority:-
Establish quality standards in skills training.
Prepare curriculum, course content, and credit frameworks for skills training.
Prepare guidelines for training of trainers.
Prepare standards for skill training and improve the standards of the skill programs in the State.
To design and develop labour market information systems and data systems based on global standards and best practices.
To work as a think-tank forum for research inputs relating to skills development.

To take up other activities in order to fulfill the objectives of the KSDA