Published on:
November 24, 2022
Lachit Borphukan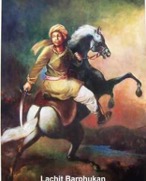 Why in news?
 The Assam government to celebrate the 400th of Birth anniversary of Lachit Borphukan at New Delhi
About Lachit Borphukan
He was chosen as one of the five Borphukans of the Ahom kingdom by king Charadhwaj Singha, and given administrative, judicial, and military responsibilities.
Borphukan preferred guerrilla tactics which provided an edge to his smaller, but fast moving and capable forces. Much like Shivaji's encounters with the Mughals in Marathwada, Lachit inflicted damage on the large Mughal camps and static positions.
The first Borbarua of upper-Assam and Commander-in-Chief of the Ahom army under King Pratap Singha
Ramsingh I and Lachit Borphukan are contemporary of Aurangzeb.
Legacy
November 24 is celebrated as Lachit Divas (Lachit Day) in Assam
Lachit Borphukan Gold Medal :Best Cadet of NDA
Mahabir Lachit Award : Notable personalities of Assam by Tai Ahom Yuva Parishad
Lachit Borphukan's Maidam: last remains of Borphukan were laid under this tomb (Maidam) constructed by Swargadeo Udayaditya Singha in 1672.
Who are Borbarua?
In the Ahom kingdom, a position created by the Ahom king Prataap Singha
The position included both executive and judicial powers
It is with jurisdiction of the Ahom kingdom east of Kaliabor river and those regions not governed by the three great Gohains (Burhagohain, Borgohain and the Borpatrogohain)
Lachit Borphukan in Assamese culture
Every culture and community has its heroes. Over time, Lachit Borphukan's exploits have become a symbol of resistance against outsiders against all odds. He has become one of the greatest of Assamese heroes, symbolising the valour, courage, and intelligence that defines the Assamese self-identity.
History of the Ahom kingdom
The Ahom kings ruled large parts of what is now known as Assam for nearly 600 years, from the early 13th century to the early 19th century.
This was a prosperous, multi-ethnic kingdom which spread across the upper and lower reaches of the Brahmaputra valley, surviving on rice cultivation in its fertile lands.
The Ahoms engaged in a series of conflicts with the Mughals from 1615-1682, starting from the reign of Jahangir till the reign of Aurangzeb.
One of the major early military conflicts was in January 1662, where the Mughals won a partial victory, conquering parts of Assam and briefly occupying Garhgaon, the Ahom capital.
The counter-offensive to reclaim lost Ahom territories started under Ahom King Swargadeo Chakradhwaja Singha. After the Ahoms enjoyed some initial victories, Aurangzeb dispatched Raja Ram Singh I of Jaipur in 1669 to recapture the lost territory — eventually resulting in the Battle of Saraighat in 1671.