Published on:
November 5, 2022
Mt. Kilimanjaro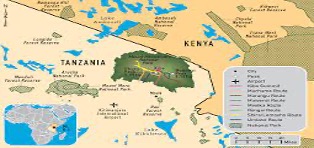 Why in news?
Tanzania's army has deployed hundreds of troops to help firefighters who have been battling a blaze on Africa's highest peak, Mount Kilimanjaro
Highlights
Mt. Kilimanjaro 
It is a dormant volcano in Tanzania.
It has three volcanic cones: Kibo, Mawenzi, and Shira.
It is the highest mountain in Africa and the highest single free-standing mountain above sea level in the world.
It is the highest volcano in Africa and the Eastern Hemisphere.
Kilimanjaro is the fourth most topographically prominent peak on Earth.
It is part of Kilimanjaro National Park and is a major hiking and climbing destination.
Its parent range is the Eastern Rift mountains.