Published on:
July 5, 2022
'SELFIE WITH A DOCTOR' CAMPAIGN
'SELFIE WITH A DOCTOR' CAMPAIGN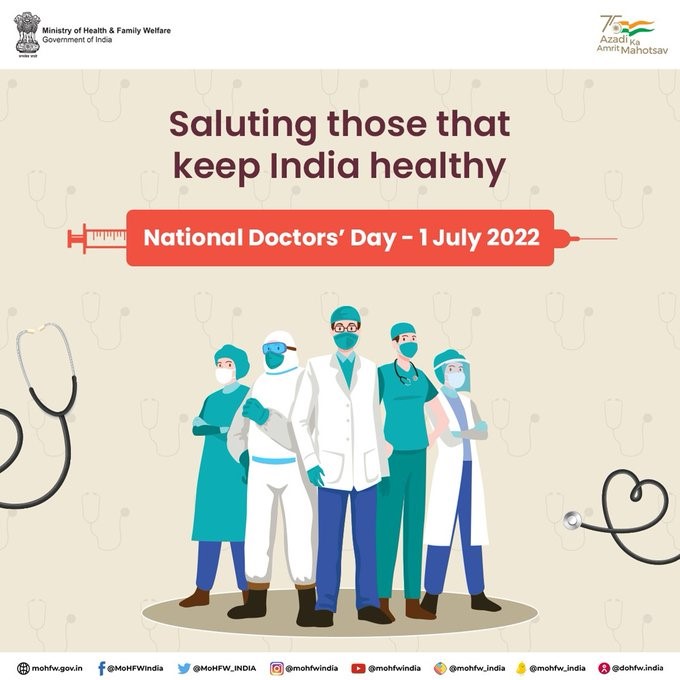 Why in news?
To mark National Doctors' Day that is observed on July 1, the State Health and Family Welfare Department has launched a "Selfie with a doctor" campaign.
National doctor's day
Every year, National Doctor's Day is observed on July 1 in the memory of Dr Bidhan Roy, the former Chief Minister of Bengal, who was known for his selfless service to humanity.
The day, commemorated by Indian Medical Association (IMA), celebrates all doctors and healthcare workers who have been tirelessly serving people by risking their own lives.
Also called Doctors' Day, it has been celebrated across the nation every year since 1991.
The theme this year is 'Family doctors on the front line
About Dr.Roy
Dr Roy was born on July 1, 1882, and passed away on the same day in 1962.
Dr Bidhan Roy was also a prominent freedom fighter. The Bharat Ratna recipient established many medical institutes such as the Jadavpur T.B. Hospital, Kamala Nehru Memorial Hospital, Chittaranjan Cancer Hospital and the Chittaranjan Seva Sadan for women and children.
Significance
The day honours the contributions made by the doctors and healthcare professionals, along with the numerous sacrifices they have made to save millions of lives.