Published on:
July 5, 2022
SINGLE-USE PLASTIC IS BANNED
SINGLE-USE PLASTIC IS BANNED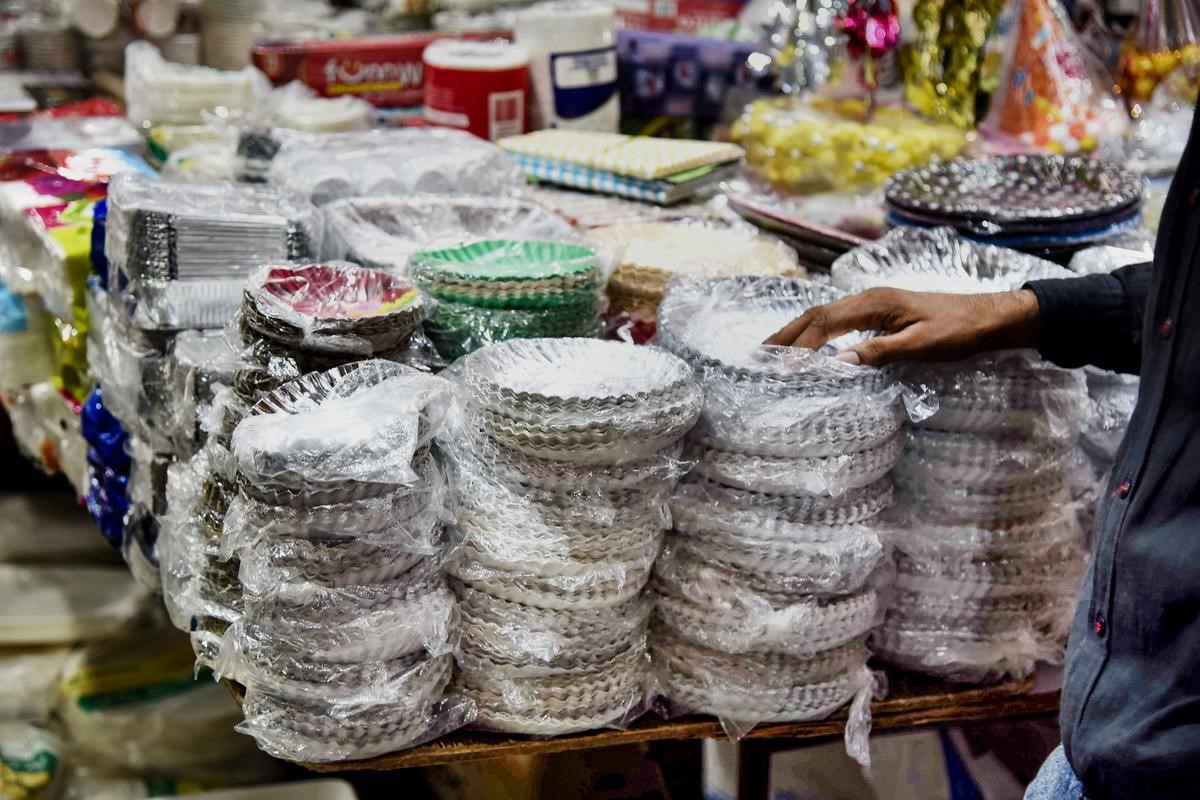 http://gowstakeout.com/2013/06/23/stir-fried-ong-choy-with-shrimp-paste/ Why in news?
buy prednisone for dogs online Single-use plastic (SUP) products are banned in the whole country from July 1st.
Highlights:
The whole country might now cut down on its single-use plastic (SUP) products, but Karnataka was the first State to impose a ban on these products in as early as 2016.
The current ban covers items which have a low utility and high littering potential.
The manufacture, import, stocking, distribution, sale and use of following single-use plastic, including polystyrene and expanded polystyrene, commodities shall be prohibited with effect from the 1st July, 2022
The ban is being introduced in phases to give manufacturers time to shift to thicker polythene bags that are easier to recycle. While manufacturers can use the same machine for 50- and 75-micron bags, the machinery will need to be upgraded for 120 microns.
According to the Plastic Waste Management Rules, 2016, there is also a complete ban on sachets using plastic material for storing, packing or selling gutkha, tobacco and pan masala.
Single use plastic ban and Karnataka
The Karnataka State Pollution Control Board (KSPCB), along with the Bruhat Bengaluru Mahanagara Palike (BBMP) will follow strict implementation of the nationwide ban on SUP announced by the Central Pollution Board.
Karnataka was the first State in the nation to ban single-use plastic in 2016 with the Plastic Waste Management Rules
From plastic carry bags, cutlery, banners, to wrapping films, several items are included in the ban. The medical sector gets an exemption from this rule.
The implementation will take place under Rules 4(c), 4(d) of the Plastic Waste Management (Amendment) Rules, 2021 and if the banned items are used, then they will be seized and the production units will be closed with penalties.
Fine for violators in Karnataka:
For producers: Seizure of the products, Closure of the unit,

Per ton of plastic used in packaging of tobacco products: First-time violation Rs 5,000/-, Second-time violation Rs 10,000/-,Third-time violation Rs 20,000/

For retailers: First-time violation Rs 2,000/- ,Second-time violation Rs 5,000/-, Third-time violation Rs 10,000/-
For street vendors: First-time violation Rs 200/-, Second-time violation Rs 500/, Third-time violation Rs 1,000/, Seizure of the products
For the third-time violation, a penalty plus seizure of trade documents
Since the 2016 ban, 112 plastic units in the State have been issued Notice of Proposed Direction's (NPD) for manufacture of the banned items. Another 35 units had committed violations under Section 5 of the Act and 104 units have been issued closure direction and 35 Units (around nine in Ballari and three in Mysuru) have had criminal cases filed against them.
Measures taken to implement the ban in the state:
To effectualise the ban, BBMP marshals, local organisations, and officers of the board are being trained to implement it.
The KSPCB will also create awareness about the ban through hoardings and videos near bus-stands, radio station announcements, and programmes about plastic pollution and in school and college programmes.
Waste collection officials and workers have also been briefed about the ban
Yaduveer Krishnadatta Chamaraja Wadiyar of the erstwhile Mysuru royal family, the brand ambassador for the State Pollution Control Board since June 5, 2022, will coordinate with the board and the BBMP to spread awareness throughout Karnataka against the use of plastic.
Further, creation of awareness will be maximised through panchayats. Word will be spread through traditional media houses and social media too.
What is single-use plastic?
As the name suggests, it refers to plastic items that are used once and discarded. Single-use plastic has among the highest shares of plastic manufactured and used — from packaging of items, to bottles (shampoo, detergents, cosmetics), polythene bags, face masks, coffee cups, cling film, trash bags, food packaging etc.
What are the items being banned?
The items on which the Central Pollution Control Board (CPCB) have announced a ban are earbuds; balloon sticks; candy and ice-cream sticks; cutlery items including plates, cups, glasses, forks, spoons, knives, trays; sweet boxes; invitation cards; cigarette packs; PVC banners measuring under 100 microns; and polystyrene for decoration.
The Ministry had already banned polythene bags under 75 microns in September 2021, expanding the limit from the earlier 50 microns. From December, the ban will be extended to polythene bags under 120 microns.
Why these items?
The choice for the first set of single-use plastic items for the ban was based on "difficulty of collection, and therefore recycling".
Of the single-use plastic industry – the production and sale of these items is miniscule. The largest share of single-use plastic is that of packaging – with as much as 95% of single use belong to this category – from toothpaste to shaving cream to frozen foods. The items chosen are of low value and of low turnover and are unlikely to have a big economic impact, which could be a contributing reason
The items that are not covered under the ban:
Mineral water bottles or plastic bottles of aerated drinks are unaffected by the ban, though, in popular imagination, they are representative of 'plastic pollution.'
Effects of single –use plastic:
When plastic remains in the environment for long periods of time and does not decay, it turns into micro plastics – first entering our food sources and then the human body, and this is extremely harmful.
They leach their toxins into the soil and cause environmental damage in both land and sea.
How will the ban be enforced?
The ban will be monitored by the CPCB from the Centre, and by the State Pollution Control Boards (SPCBs) that will report to the Centre regularly. Directions have been issued at national, state and local levels
So far 32 States/UTs have reportedly constituted a dedicated Task Force to eliminate the use of single-use plastics. Of these 14 states/UTs and 12 Central Ministries, as of March, had developed action plans describing how they would be enforcing this.
Directions have also been issued to SPCBs and Pollution Control Committees to modify or revoke consent to operate issued under the Air/Water Act to industries engaged in single-use plastic items.
Local authorities have been directed to issue fresh commercial licenses with the condition that SUP items will not be sold on their premises, and existing commercial licences will be cancelled if they are found to be selling these items.
Punishment for violations:
Those found violating the ban can be penalised under the Environment Protection Act 1986 – which allows for imprisonment up to 5 years, or a penalty up to Rs 1 lakh, or both.
Violators can also be asked to pay Environmental Damage Compensation by the SPCB. In addition, there are municipal laws on plastic waste, with their own penal codes.
Which sector would be affected by the ban?
The All India Plastic Manufacturers Association has said that the ban would shutter 88,000 units in the plastic manufacturing business. These employ close to a million people and contribute to exports worth ₹25,000 crore.
Fast Moving Consumer Goods companies (FMCG) would be severely affected by the the ban due to their dependence on plastic straws, plates.
How are other countries dealing with single-use plastic?
Earlier this year, 124 countries, parties to the United Nations Environment Assembly, including India, signed a resolution to draw up an agreement which will in the future make it legally binding for the signatories to address the full life of plastics from production to disposal, to end plastic pollution.
Bangladesh became the first country to ban thin plastic bags in 2002. New Zealand became the latest country to ban plastic bags in July 2019. China issued a ban on plastic bags in 2020 with phased implementation.

As of July 2019, 68 countries have plastic bag bans with varying degrees of enforcement.