Published on:
February 27, 2023
Heat waves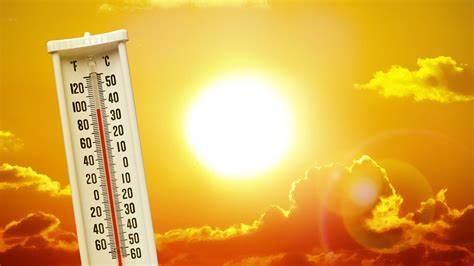 CONTEXT the India Meteorological Department (IMD) warned that the maximum temperatures over northwest, west, and central India would be 3-5°C higher than the long-term average. On February 21, the national capital recorded its third hottest February day (33.6° C) in more than five decades.
Highlights:
Heat waves are expected to become longer and more intense and frequent over the Indian subcontinent.
In 2022 itself, the heat waves started early and were more numerous. They also extended further south into peninsular India due to a north-south pressure pattern set up by the La Niña.
The last three years have been La Niña years, which has served as a precursor to 2023 likely being an El Niño year. (The El Niño is a complementary phenomenon in which warmer water spreads west-east across the equatorial Pacific Ocean.)
What is a heat wave?
According to the IMD, a region has a heat wave if its ambient temperature deviates by at least 4.5-6.4°C from the long-term average. There is also a heat wave if the maximum temperature crosses 45°C (or 37°C at a hill-station).
How do heat waves occur?
Heat waves are formed for one of two reasons — warmer air is flowing in from elsewhere or it is being produced locally. It is a local phenomenon when the air is warmed by higher land surface temperature or because the air sinking down from above is compressed along the way, producing hot air near the surface.
In the context of climate change, West Asia is warming faster than other regions in latitudes similarly close to the equator, and serves as a source of the warm air that blows into India. Likewise, air flowing in from the northwest rolls in over the mountains of Afghanistan and Pakistan, so some of the compression also happens on the leeward side of these mountains, entering India with a bristling warmth.
While air flowing in over the oceans is expected to bring cooler air, the Arabian Sea is unfortunately warming faster than most other ocean regions.
The strong upper atmospheric westerly winds, that come in from the Atlantic Ocean over to India during spring, control the near-surface winds. The energy to run past the earth near the surface, against surface friction, can only come from above. This descending air compresses and warms up to generate some heat waves.
Lapse rate — the rate at which temperatures cool from the surface to the upper atmosphere — is declining under global warming. In other words, global warming tends to warm the upper atmosphere faster than the air near the surface. This in turn means that the sinking air is warmer due to global warming, and thus produces heat waves as it sinks and compresses.
According to the IMD, an anticyclonic formation over south Gujarat is one of the main reasons for the warming on the west coast. Its effect was being transmitted northward to Rajasthan, Punjab, Delhi, Himachal Pradesh, and western Uttar Pradesh.
La Niña
La Niña refers to cooler than normal surface waters in the equatorial Pacific Ocean, which influences global weather. La Niña conditions tend to have a temporary cooling effect on the Earth's atmosphere as well.
What are the Impacts of Heat Waves In India?
Economic Impacts: the livelihood of poor and marginal farmers is negatively impacted due to the loss of working days.
Heat waves also have an adverse impact on daily wage workers' productivity, impacting the economy.
Impact on Agriculture Sector: Crop yields suffer when temperatures exceed the ideal range. Across India, wheat production could be down 6-7% due to heat waves.
Livestock is also vulnerable to heatwaves.
Impact on Electricity Usage: Naturally, heatwaves impact power load. In the North India, the average daily peak demand in April was 13% higher than 2021 and 30% higher in May.
Human Mortality: Mortality due to heat waves occurs because of rising temperature, lack of public awareness programmes, and inadequate long-term mitigation measures. The increased heat will lead to an increase in diseases like diabetes, circulatory and respiratory conditions, as well as mental health challenges.
Food Insecurity: The concurrence of heat and drought events are causing crop production losses and tree mortality.The risks to health and food production will be made more severe from the sudden food production losses exacerbated by heat-induced labour productivity losses.
Cost of living: These interacting impacts will increase food prices, reduce household incomes, and lead to malnutrition and climate-related deaths, especially in tropical regions.
Impact on Workers: Workers in sectors like agriculture and construction will be severely impacted in 2030 because India's large population depends on these sectors for their livelihoods.
Weaker Sections to be Specifically Affected: The climate science community has reported overwhelming evidence that extreme events such as heat waves are likely to become more intense, more frequent and of longer duration in future unless emissions of greenhouse gases and aerosols are significantly cut globally.
Measures Taken to Tackle Heatwave
India now has a robust national framework for heat action plans that involve the India Meteorological Department (IMD), national and state disaster management authorities, and local organizations. The core of this heat action plan is the early warning system.
The Ministry of Earth Sciences (MoES) had set up an improved forecast system for early heatwave warnings as part of the National Monsoon Mission.
A multi-model ensemble (MME) should be used for seasonal forecasts.
Way Forward
Building local health care providers' abilities to identify and treat illnesses brought on by excessive heat.
Public awareness and community outreach
Collaboration with non-governmental and civil society organizations.
Nature-based solutions should be taken into account, not just for tackling climate change but also doing it in a way that is ethical and promoting intergenerational justice.
Sustainable Cooling: Passive cooling technology, a widely-used strategy to create naturally ventilated buildings, can be a vital alternative to address the urban heat island for residential and commercial buildings.