Published on:
February 20, 2023
LAND DEGRADATION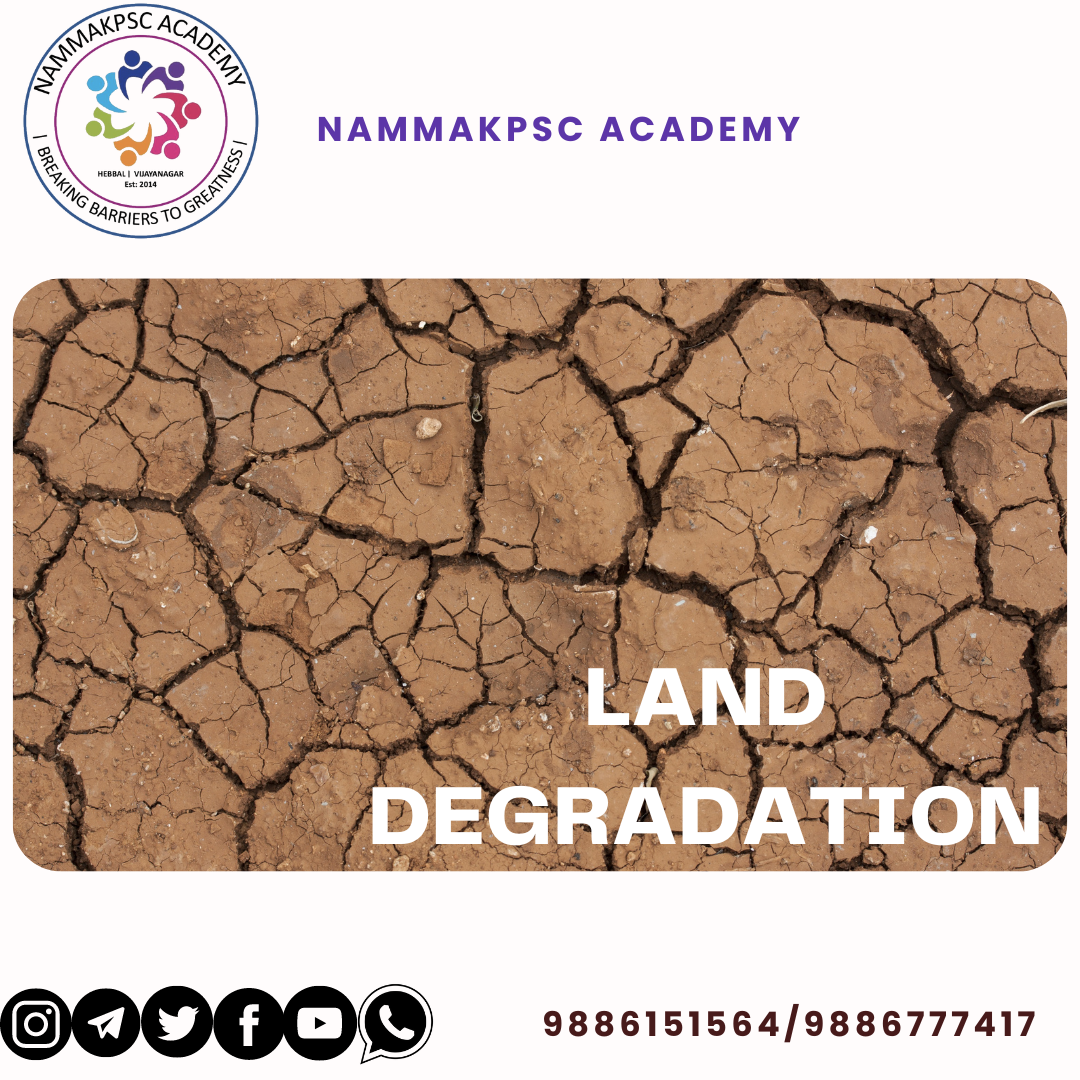 WHAT IS LAND DEGRADATION?
Temporary or permanent decline in the productive capacity of the land
Reduces the potential use of land
WHAT CAUSES LAND DEGRADATION?
Loss of soil cover, mainly due to rainfall and surface runoff
Cutting forests adversely affect the soil and cause degradation
As urbanization increases, the demand for resources is also increasing
Climate Change may exacerbate desertification through alteration of spatial and temporal patterns in temperature, rainfall, solar radiation and winds
WHAT ARE THE CONSEQUENCES OF LAND DEGRDATION?
Threatens agricultural productivity – reduces soil health – impact the livelihood of rural people
Exacerbating climate change events – causes even greater degradation
Deterioration of quantity and quality of both surface and groundwater resources
Affects Land rights – Because of inheritance, land fragmentation is already at an unviable level. The increasingly smaller sizes of land plots cannot make economic sense to those who are most affected by these: the small and marginal farmer. It can be unfair to the younger members and can dilute gender rights
WHAT REPORTS SAY ON LAND DEGRDATION?
ISRO report showed connection between the micro and the macro: 6.96 million ha in Karnataka are currently degraded, making this the fifth largest degraded area in India
Degraded lands, in turn, are part of the semi-arid. The semi-arid region comprises 37% of the Indian landmass. It stretches from Punjab to Tamil Nadu, encompassing Gujarat. So, it's a micro-macro-meso framework, and the degradation accounts for a complex of issues that have led to this point
Agriculture forms 20% of our GDP. And a large chunk of this, especially its drylands, is becoming economically unviable. Poverty and vulnerability walk hand-in-hand on these lands, most of which are also degraded
HOW GRAM PANCHAYAT CAN ACT AS SOLUTIONS TO STOP LAND DEGRADATION
Establish a mechanism (may be within the district administration) that will allow farmers to apply for and hold a referendum whenever they are ready to go organic at the gram panchayat level.
Establish a plug and play mechanism for organic crops that duplicates/replicates the mechanism that made the Green Revolution so successful, and which even today is the only answer the moment a farmer goes in for irrigated farming.
The Green Revolution mechanism integrates policy, research, extension, inputs, subsidies, equipment, credit, insurance, storage and markets to form a single, holistic whole.
The moment a gram panchayat votes to go organic, this fully functional 'single window' (call this 'Organic Now', or another name) should become operational at the gram panchayat.
Allow the gram panchayat to become the spoke for all agriculture produce:

A single point where all local produce is aggregated
Where a farmer can store and sell his produce
Each GP spoke can then be connected to the hubs that make up a crop ecosystem: a processing mill or equivalent, a bank, etc.
HOW LOCAL PRODUCTION CAN ACT AS SOLUTIONS TO STOP LAND DEGRADATION
Help local youth put all the local produce onto the Internet
Brainstorm all the value-adds possible, and the skills required for these
Access government aid to set up local skills and entrepreneur training
Assist the gram panchayat to promote local enterprises
Local PDS procurement – Allow the PDS to procure and supply local produce. Use a part of the existing subsidy to grow the local economy
Localise government schemes – Help departments to transfer funds for all agriculture, horticulture, livestock and fisheries production to the gram panchayats. Review what other schemes can be transferred
Allow gram panchayats to retain unspent funds in a gram panchayat development fund. For these departments, fund utilization will also act as a performance index
HOW LOCAL PRODUCTION CAN ACT AS SOLUTIONS TO STOP LAND DEGRADATION
Convert all dryland crops into sets of standard days of production.
Guarantee employment to every farmer up to a cap of 2-5 acres.
Allow farmers and their families to register with the gram panchayat to be paid minimum wages based on the crops they are willing to labour for.
Land preparation, sowing, weeding, harvesting and transportation should be added to the 'Shelf of Works' under the MGNREGA to allow farm labour to be paid for work that they do on these farms.
Create similar standard days of production for the many horticulture, husbandry and fisheries produce/products.
Explore how this subsidy can be offset by transferring the subsidies for agriculture chemicals, synthetics and others to these organic gram panchayats.
Allow farmers to generate significant revenue from the sale of their produce.
Savings and investments may be the real pathway to farmers tripling their incomes.
Explore over time if an in-out strategy should be developed based on a farm income threshold, or if farmers being paid for a minimum number of acres for the dryland crops they work on should be a permanent safety net that provides a minimum food security
CONCLUSION
These steps, and the others they might spawn, have the potential to focus our attention where it's needed the most: on our gram panchayats as the new economic hubs to revitalise our agriculture.