Published on:
December 5, 2022
Fly joint patrols over Pacific
Fly joint patrols over Pacific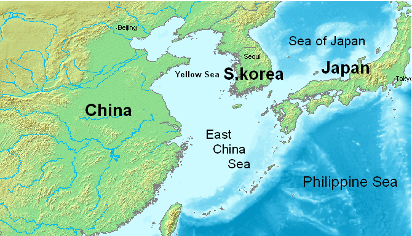 Why in news?
Russian and Chinese strategic bombers flew a joint patrol over the western Pacific in a show of increasingly close defence ties between the two countries.
Highlights:
Tu-95 bombers of the Russian Air Force and the Chinese H-6K bombers flew over the Sea of Japan and the East China Sea during an mission
The exercise followed a series of joint drills intended to showcase a growing military cooperation between Moscow and Beijing as they both face tensions with the U.S.
East China Sea
It is an arm of the Western Pacific Ocean
Extension : Mainland China and the Korean Peninsula in the Yellow Sea
Connects :
Sea of Japan in the northeast through the Korea Strait
The South China Sea in the southwest via the Taiwan Strait
The Philippine Sea in the southeast via gaps between the various Ryukyu Islands
Bounded by the middle portion of the first island chain off the eastern Eurasian continental mainland, including the Japanese island of Kyushu and the Ryukyu Islands, and in the south by the island of Taiwan.
Bordering countries : China, Japan, Taiwan and South Korea.
Rivers: Yangtze River
Islands and reefs: Senkaku Islands (Diaoyu Islands) and Tong Island
Sea of Japan
Marginal sea between the Japanese archipelago, the Korean Peninsula, and the mainland of the Russian Far East
The Japanese archipelago separates the sea from the Pacific Ocean.
It has almost no tides due to its nearly complete enclosure from the Pacific Ocean.
Sea Currents : The Kuroshio , the Tsushima Current and the East Korea Warm Current
Straits : Strait of Tartary, Tsugaru Strait ,the Kanmon Straits and the Korea Strait

Significant islands : Moneron, Rebun, Rishiri, Okushiri, Ōshima, Sado, Okinoshima, Ulleungdo, Askold, Russky and Putyatin.