Published on:
October 28, 2022
Genetically modified (GM) Mustard Seeds.
Genetically modified (GM) Mustard Seeds.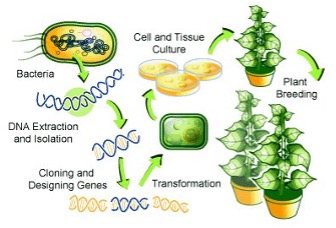 Why in news?
Genetic Engineering Appraisal Committee (GEAC) has approved the "environmental release" of indigenously developed genetically modified (GM) Mustard Seeds. This paves the way for possible 'commercial use' of the country's first indigenously developed GM food crop.
Highlights:
Prior to this, Bt cotton – the plant containing the pesticide gene from the bacteria Bacillus thuringiensis (Bt), has been grown in India for about twenty years.
The approval makes GM mustard only the second approved transgenic crop in India after Bt cotton and the first such food crop that can be commercially cultivated by farmers.
Important to note, GEAC approval is not the final call for commercial release but just a step in this direction as it still needs approvals on higher levels for the final release.
Are GM Mustard for Agricultural Advancement?
The recent approval could pave the way for increased edible mustard oil production while reducing huge import costs for edible oil.
It is being said that GM Mustard or DMH-11 seeds could yield about 30% more than a traditional reference mustard variety.
For the benefit of farmers, DMH-11 could reduce the use of pesticides and insecticides during farming thereby leading to better yield production.
GM crops can produce more even in small areas of farmland which in the long term can ensure the betterment of the food supply.
Infact, other crop varieties that could potentially be approved for commercial cultivation in future are BT cotton, BT brinjal and HT cotton.
What is GM or Hybrid Mustard?
Mustard is one of India's most significant winter crops cultivated between mid-October and late November. It is a self-pollinating crop which is especially difficult to hybridise naturally as it cross-pollinates itself.
In the process of Hybridisation, scientists cross two genetically dissimilar plant varieties that can be from the same species. It is believed that the first-generation (F1) offspring from such crosses usually have higher yields than what either individual parent can give.
DMH (Dhara Mustard Hybrid)-11 – a genetically modified variety of mustard at the Centre for Genetic Manipulation of Crop Plants.
How can the cultivation of GM Mustard help India?
Being the world's biggest importer of edible oils India spends tens of billions of dollars to import cooking oils every year. The country meets more than 70% of its vegetable oil demand through imports from Malaysia, Indonesia, Brazil, Argentina, Russia and Ukraine.
Sunflower oil constitutes about 16% of total edible oil imports in India, and it is also a major cooking ingredient in almost every Indian household. About 70% of the sunflower oil imported by India used to come from Ukraine and 20% from Russia. The imports for the same were severely affected due to Russia Ukraine crisis.
The decision of GEAC recognises the potential of biotechnology to address the issue of India's growing edible oil imports.
It is being said that DMH-11 seeds could yield about 30% more than a traditional referencemustard variety. This approval therefore could help boost edible mustard oil production, and reduce huge import costs for edible oil.
Other than import limits, the development of indigenous GM Mustard seeds signifies government-led scientific research in Agriculture.
The constraints
The debate on the pros and cons of genetically modified crops has been going on for a decade between those who hail this scientific intervention in the agriculture sector and those who object to the environmental ambiguities of using hybrid crops.
Certain environmentalists and advocacy groups have opposed lab-altered crops on the grounds that GM crops may compromise food safety and biodiversity, posing a health hazard.
The commercial clearance of GM Mustard will allow private players to eventually monopolise the seed market as cost and availability will come under question
What are the Conditions behind GEAC's Approval of GM Mustard?
Alongside the approval, GEAC has also demanded more tests for genetically modified mustard for commercial cultivation.
During the period of approval, a Post Release Monitoring Committee (PRMC) would be constituted by GEAC which will visit the growing sites of the approved biological material(s) at least onceduring each season and submit their report to GEAC on the matters of compliance.
The field demonstration studies regarding the effect of GE mustard on honey bees and other pollinators, earlier recommended in the  GEAC meeting, will also be conducted post-environmental release.
About GEAC
The Genetic Engineering Appraisal Committee (GEAC) functions in the Ministry of Environment, Forest and Climate Change (MoEF&CC).
It is responsible for appraisal of activities involving large scale use of hazardousmicroorganisms and recombinants in research and industrial production from the environmental angle.
The committee is also responsible for appraisal of proposals relating to release of genetically engineered (GE) organisms and products into the environment including experimental field trials.
GEAC is chaired by the Special Secretary/Additional Secretary of MoEF&CC and co-chaired by a representative from the Department of Biotechnology (DBT).