Published on:
August 13, 2022
Lumpy Skin Disease in cattle
Lumpy Skin Disease in cattle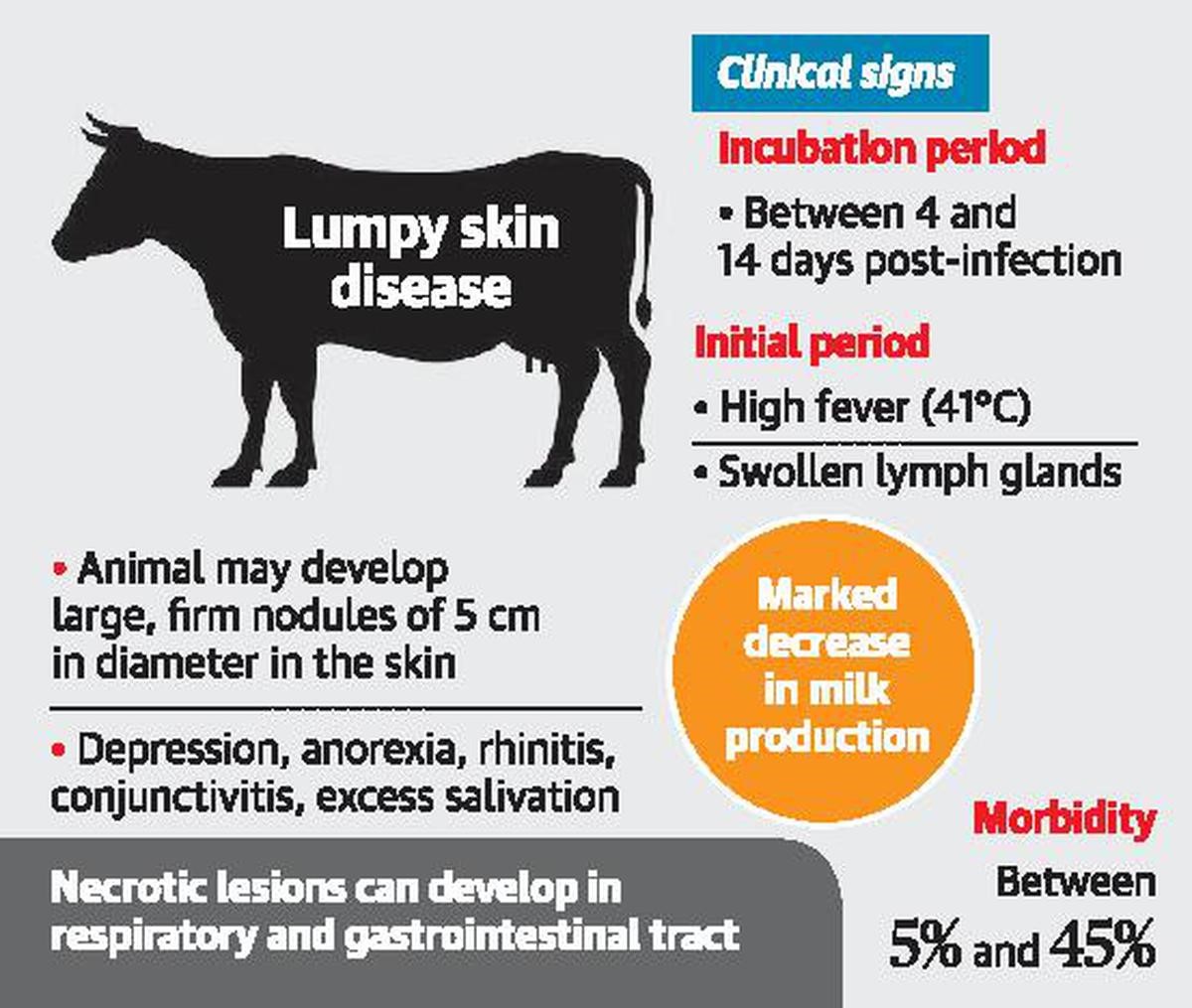 http://thmiii.com/to-my-grandchildren/ Why in news?
Le Havre   In a major breakthrough, two institutes of Agri research body ICAR have developed an indigenous vaccine for Lumpy Skin Disease in cattle which has spread across many States in the last few months.
Highlights:
As of August 8, Rajasthan has reported 2,111 deaths of cattle, followed by Gujarat at 1,679, Punjab at 672, Himachal Pradesh at 38, Andaman & Nicobar at 29 and Uttarakhand at 26.
ICAR-National Research Centre on Equines (ICAR-NRCE), Hisar (Haryana), in collaboration with ICAR-Indian Veterinary Research Institute (IVRI), Izatnagar, Uttar Pradesh has developed a homologous live-attenuated LSD vaccine "Lumpi-ProVacInd".
"The cost per dose is ₹1-2," the immunity induced by homologous live attenuated LSD vaccines usually persists for a minimum period of one year.
About lumpy skin disease
The LSD disease was reported for the first time in India in 2019 from Odisha.
In the initial years, it was mainly restricted to the eastern part of our country.
Later on, it rapidly spread to almost all the states in the country. The outbreaks recently (June-July-August 2022) being reported are extensive and lethal with a mortality of up to 15%, particularly those being reported in the Western part (Rajasthan) of the country.
LSD is primarily a disease in cattle
the LSD virus can also cause mild illness in buffalo, camels, deer and horses.
About the vaccine:
Sheepox virus (SPV) and goat pox virus (GPV) -based vaccine (heterologous vaccine) is usually authorized to induce cross-protection against LSD in cattle, where homologous LSD vaccine is not available.
The Centre has also authorised the use of goatpox vaccine to control LSD in cattle. However, heterologous vaccines provide partial protection and are not as efficacious as homologous vaccines.
The scientists at NRCE isolated the virus in 2019 itself and were in a process of developing a live-attenuated vaccine since then.
After initial safety and immunogenicity trials of the vaccine in laboratory animals at NRCE, Hisar, the experimental trials were conducted in calves at IVRI Mukteshwar.

The safety of the vaccine has also been ascertained in the field in cattle and buffaloes of all age groups including lactating and pregnant ones.

Based on the outcome of experimental and field trials, it can be concluded that the vaccine is safe and induces protective immunity in animals against LSD.